Caleb Maddix and Ryan O'Donnell help coaches, consultants, agency owners, speakers, and course creators get more high ticket clients. They're promoting a new case study that reveals three secrets. One, the highest-converting, hands-free sales process almost every seven or eight figure info business uses. Two, a scalable traffic source guaranteed to make you money. Three, the one thing you need in your marketing funnel to double or even triple your profits.
I checked it out. The training begins and Ryan explains how webinars are still where it's at. But there's a new way to do them. It's quick. Low tech. You don't need a team. You never do them live. The profit margin is higher. There's no stress. And, Caleb chimes in, they can legally guarantee it'll work.
Okay, onto the three "secrets." First, is Pareto's Principle aka The 80-20 Rule. There's only a few things that matter in your webinar, Ryan says. Identify them. Pour all of your energy into them. Nothing else matters. Now prerecord the webinar. That way, you can edit out any mistakes. Finally, automate it. Now you have an asset that can go to work for you 24/7/365. And now you can actually scale.
Secret two is to use affiliates. Leverage other people's time, energy, and money. Tap into their email list. It's risk-free because you only pay them after they've referred sales. Hence the whole "legally guaranteed to work" part. The third and final secret is to build out your back-end. At the very least, you need to have a high ticket offer you present each new customer after their initial purchase.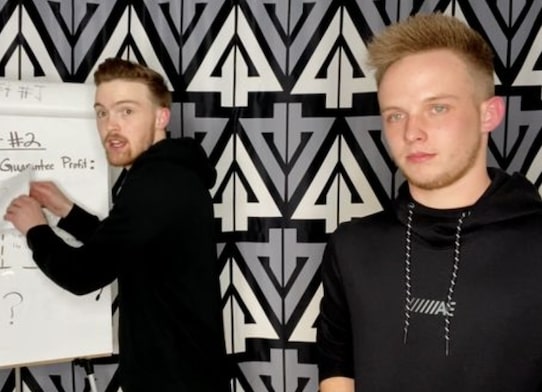 If you're a serious business owner and you'd like Caleb and Ryan's assistance doing these things, they've created a solution called Apex Scaling. Here's how it works. They will guide you to create the perfect webinar. You'll film it. Their team will edit it and make sure it flows seamlessly. Then they'll launch your back-end for you. Their team will handle your entire funnel: pages, tech, automation, emails, the whole deal. They'll also set up your affiliate program, including tracking, links, and affiliate recruitment page.
There are some bonuses as well. You'll get their Affiliate Accelerator, which teaches you how to find top producers and get them to promote you. You'll get Caleb's CMX Social Media Plan, which will show you what, where, and when to post online for max profit. There's a Media Masterclass, where you'll learn how to get featured in popular podcasts and websites, including Forbes. Plus an Advertising Masterclass, chock-full of insights from the brightest minds in internet marketing.
So how much does Apex Scaling cost, right? Ryan and Caleb say it'll retail for $50,000. However, the first five people who apply and get approved will pay significantly less. You'll have to book a call to find out. It's a heck of an offer for the select few who have the momentum and money to invest.
If not, and you're interested in something you can do for 1/100th the price? That could potentially make you just as much income? You'll definitely want to check out the resource below. It's our complete guide to making, ranking, and renting little websites to local business owners.