Leo Kanell says, "It's coming to America. No, I'm not talking about Eddie Murphy. What's coming to America is a massive economic shift that will determine the next group of millionaires, while leaving 99% of the public worse off than before. Now if you're not ready for this massive change in making money and driving a passive income stream? You're gonna be in for a big surprise." Wait, what's this dude even talking about? Read on for my Funding CEO Academy review.
Turns out, Leo and his team have provided small business owners with millions of dollars in much needed funding, allowing them to survive and even thrive in these tough times. Not only that, but they help other entrepreneurs and digital marketers to launch and scale their own funding empires as well. "Here's how it works," Leo says. "We, well, our software, will provide you with a custom funding link and funding portal. You simply share that link with people who need access to money to keep their doors open."
"You see, everything a small business owner needs, from tools to equipment to making payroll to paying for marketing and advertising, is provided by getting them funding. So if you want a job, go apply, right? But if you wanna start a business, something that's legit, that's a side hustle that can grow into a 6- or even 7-figure business (just like many of our students have already built)? Then just follow this system. Again, step one, you get your funding link, right?"
"And then, step two, you simply share that funding link with a business owner who maybe can't get access to a traditional bank loan, right? And then, step three, just allow our team to do all the heavy lifting for you. We'll secure the funding for that client and handle the rest. Go rinse and repeat, do it over and over again, and before long, you, too, can build your own funding empire. Download my free book, The 7 Keys To Building A Recession-Proof Funding Empire, to learn more."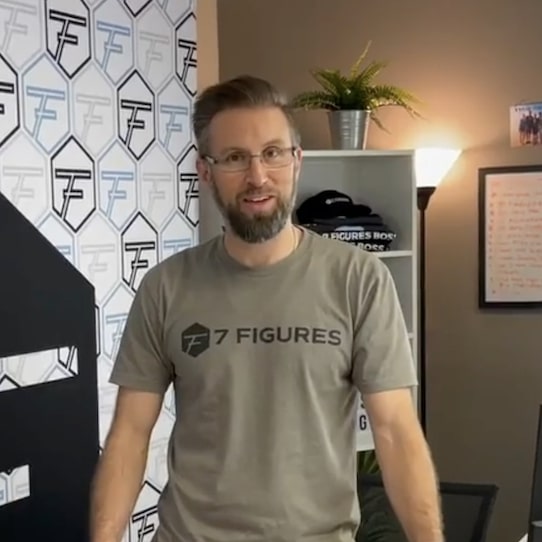 Yep, according to Leo, that's all there is to building a dream business from home; one that provides an epic life for you and your family and those that matter most to you. I've been critical of Leo's big claims and questionable tactics (countdown timers and upsells and whatnot) in the past, but he does have some members who were willing to get on camera and say nice things about him, so that's promising, right? One woman referred a local biz owner who got funded in a week, earning her a nice commission.
"Not only are they [7 Figures Funding, that is] a great company to work with," she said, "but they're extremely informative, they're kind, and they want you to succeed. And that's what I appreciate most." Another guy did an interview and claimed he was able to get to over $2k per week "really quickly." Yet another chick, who, let's be honest, seemed a bit punch-drunk, felt like Leo's funding company "literally fell from heaven." Yeeeah. I don't know if I'd go that far, lady.
"My biggest payday was probably $2,500 in the week," goes another guy. "I've done several thousands of dollars in commissions and I haven't really gotten started yet," a different guy, randomly sitting in his car, stated. "So if you're thinking about a recession-proof business, please, do yourself a favor and get involved. The timing couldn't be better." Not to be Sally Sourpuss over here, but I'm just not buying that the funding space is all it's cracked up to be. Seems like, if you're not careful, you could turn into an unpaid lead generator for Leo.