Hey and welcome to my Profit Voice Review. It's Darius here from Reed Ratings where I give honest digital product reviews along with awesome bonuses for products I truly believe in.
Profit Voice is brought to you by Mike McKay also the creator of Phone 4 Kash, Profit Funnelz, Chat 4 Kash, Profit NFT, Kash 4 Watching, ProfitWriter, ProfitGram, ProfitPrime, ProfitSend and many other software products.
So the big question is, is Profit Voice really worth your money? I'll tell you if it ticks all the boxes, and if it does, I'll give you some awesome complimentary bonuses you can only get from me today.
My goal is to help you make an informed decision so you don't end up wasting your money. Now let's jump into the next section of my Profit Voice Review to find out what exactly Profit Voice is and how it can help you and your business.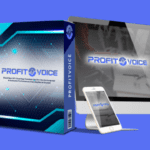 Profit Voice Review – Text To Speech Software
Profit Voice
QUICK OVERVIEW
So, I think this is a great product. Even though the sales page is a bit hipy, maybe too hipy, the product is high quality. I'm used with these guys to create crap products, cause this is what they done in the past.
PROS
Turn ANY Written Text Into Speech With Human-Quality & Use For Yourself Or Clients
Included Done-For-You Affiliate Offers To Promote
No Monthly Fees – Pay Once, Use Forever
24/7 Support and Training Included
Sell Voiceovers, Translations & Videos To Local Businesses
CONS
You have to buy at least 1 upsell in order to unlock more features.
What Exactly Is Profit Voice?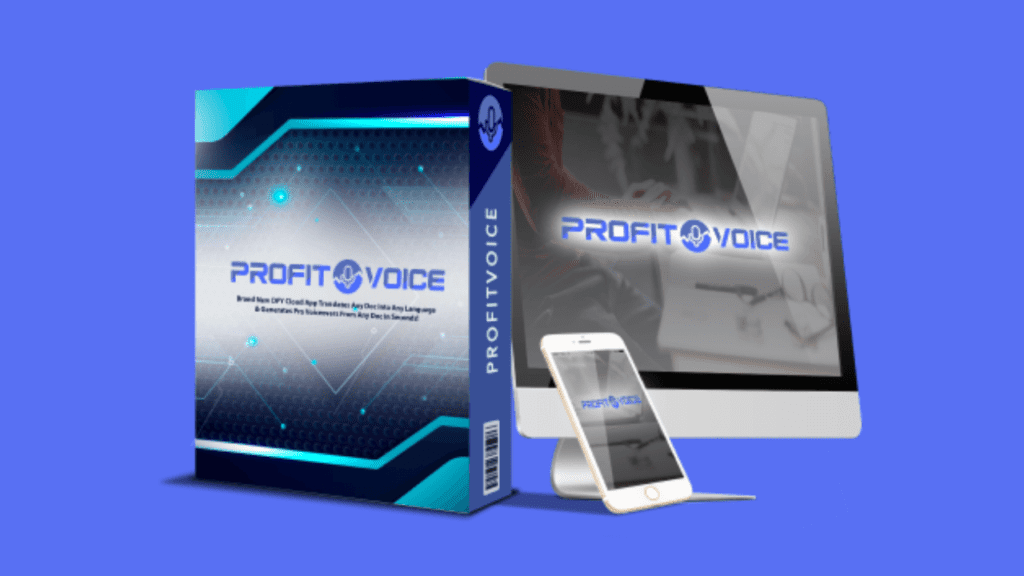 Profit Voice is a cloud based text to speech software that allows you to turn any text into a human like voice over. Also includes a translator, a video creator and a thumbnail maker.
Now, with the video creator and thumbnail maker, are pretty much crap. They will give you access to ProfitVideo, I've done a review on that and it's useless. With the translate option you can translate a text from a language into a different language. Normal and basic.
So let's stick with the main selling point which is the voice overs.
I have to say that the text to speech software works very well. And the voices that is generating are really high quality. They use some sort of neural or artificial intelligence voices which sound great.
And is very easy to use.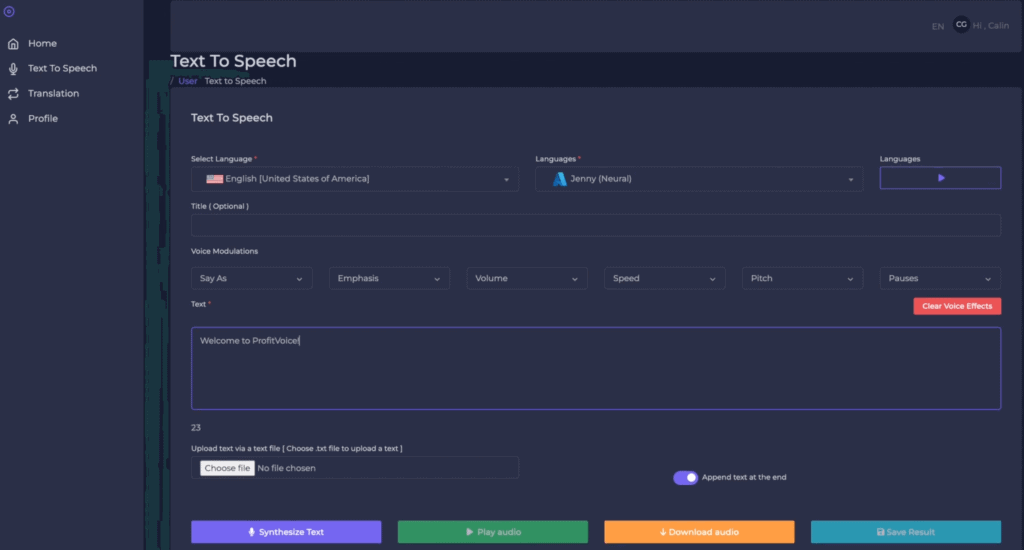 All you have to do is to input the text you want to generate a voice over for, choose your language, they have around 75 languages and accents, you can then make some adjustments to the voice, and then click on synthesise text and download it.
And now you have generated a voice over. Very easy. And I do have to say, again, that these voices sound very real. You can compare this with other TTS softwares like Speechelo.
Now let's jump into the next section of my Profit Voice Review to find out how Profit Voice works.
How Profit Voice Works?: Demo Video
Now let's jump into the next section of my Profit Voice Review to find out more about Profit Voice pricing and upsells.
Profit Voice Review: Pricing & Upsells
Front End Offer is the main software Profit Voice which will cost you $17. For the front end offer the price you see now is available only during the launch period.
After the launch, which ends on the 23rd of May 2022, price will increase to $67, as they say. Also, the frontend access doesn't depend on any of the upgrades to work, it works fine just on its own BUT it is also limited.
For example, you are limited in how many voice overs you can create, so buying upsell 1 will give you unlimited voice overs and more features.
Now, there are currently 5 upsells. You don't really need all of them to use Profit Voice, but they might come in useful depending on your situation and usage.
Upsell 1: Profit Voice Pro Edition – $37 / $27 (DS)
Upsell 2: Profit Voice Enterprise Edition – $47 / $37 (DS)
Upsell 3: Profit Voice DFY Edition – $39 / $29 (DS)
Upsell 4: Profit Voice Reseller Edition – $197 / $97 (DS)
Upsell 5: Profit Voice IMX Bundle – $97 / $67 (DS)
Profit Voice Review: Bonuses
If you decide to buy Profit Voice through my link, click on any of the buttons on this page and you will get all the bonuses listed for free.
All the bonuses listed down below for my Profit Voice Review are available only if you buy it through any of my links/buttons on this page and are available even if you purchase only the front end offer.
Your download link with my bonuses will be delivered inside your Warrior Plus account. If you can't find them or you run into an issue please send me an email at: darius@reedratings.com and I will be happy to sort things out for you.
So check out my Profit Voice Review Bonuses. This bonuses will save you time, money and help you make the most out of Profit Voice.
Custom Bonus 1: Free Account With ReedBio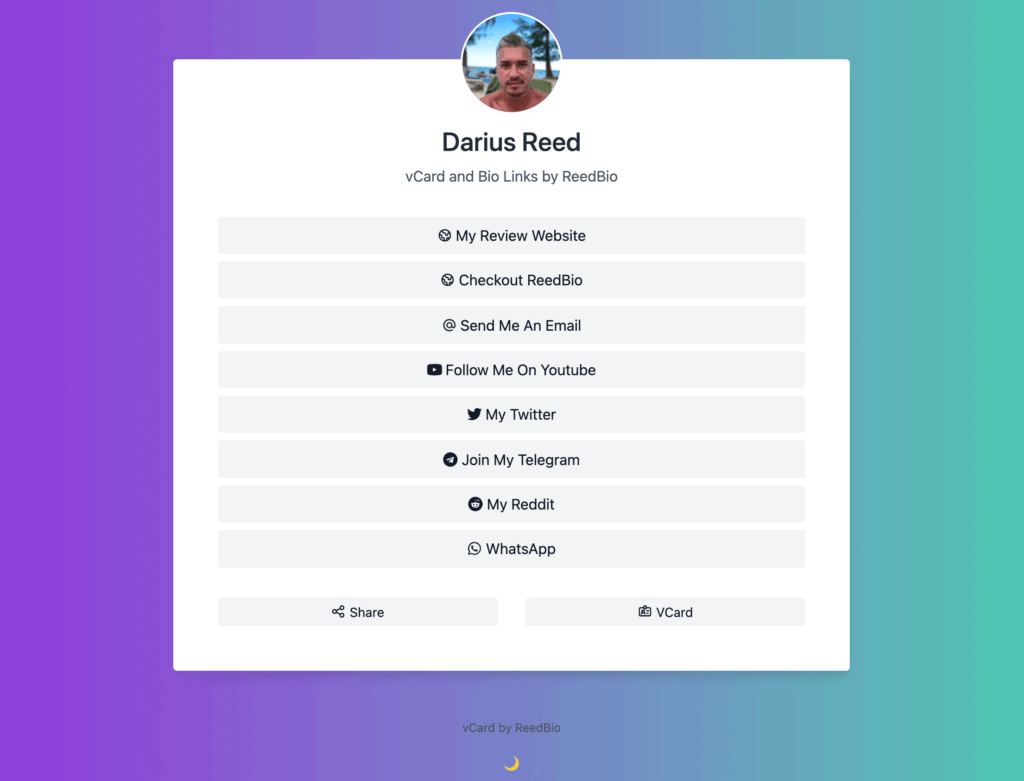 ReedBio is my own cloud based software that will allow you to build vCards and Bio Pages in minutes. All your links on one page! And you will get unlimited free access to ReedBio when you buy Profit Voice through my link.
You get 4 built-in themes that you can use right away
Custom logo, background, fonts, SEO settings, password protection and so much more
Dark Mode: All your pages support dark mode as well
Tracking pixels: Facebook, Google Analytics, Google Tag Manager, LinkedIn, Pinterest, Twitter, Quora tracking pixels available.
Connect your own domain or use our predefined ones
Custom Bonus 2: Free WP Video Reviews PRO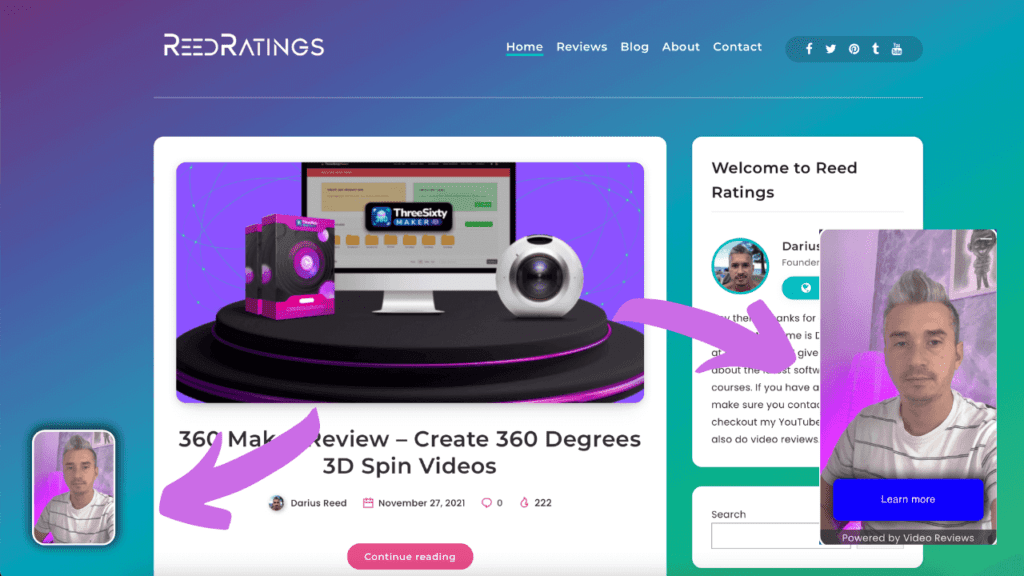 The beauty of this plugin is that for every page you have on your website you can have a different video widget for every page. For example: for the home page you can have a video, for an article you can have another video, for a blog post you can have another video. This is powerful stuff and you'll get this for free when you buy Profit Voice through my link.
100% Responsive
Selection multiple pages and videos
Play video from the beginning when it is clicked/tapped
Add Call To Action Button with types of options
Scroll to a block on a site page
Add URL to open other page
Calling a popup window, launching a quiz, etc.
Button color settings
Ability to disable widget on mobile or on desktop
Select Widget location
Widget color settings
Custom Bonus 3: Free Account With ReedShortener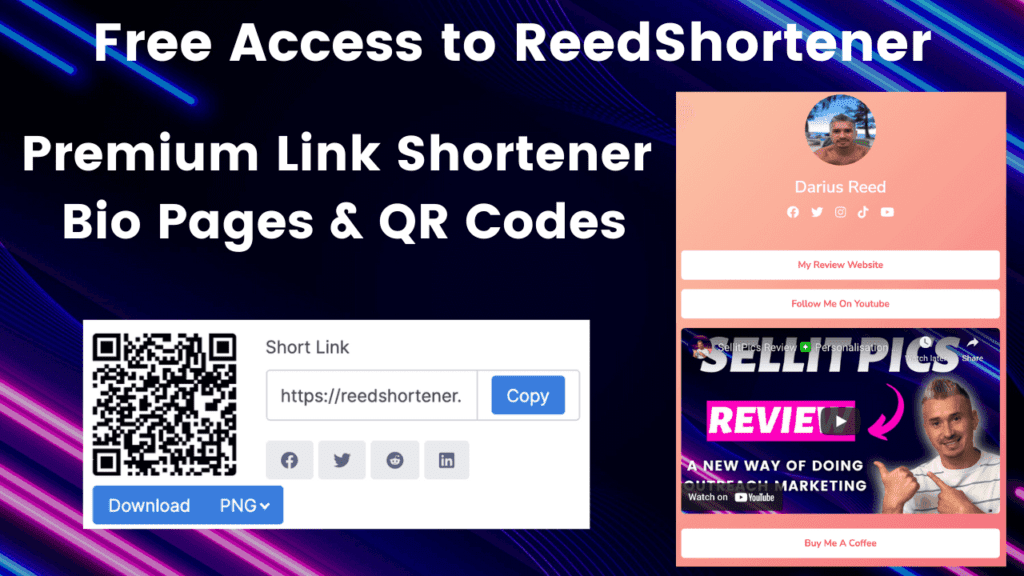 ReedShortener is my own Premium Link Shortener, QR Codes generator and Bio Pages software and you will get unlimited free access to ReedShortener when you buy Profit Voice through my link.
Link Shortener, Bio Pages And QR Codes
Link Management
Privacy Control
Powerful Dashboard
Custom Branded Domain Names
Custom Bonus 4: Free Account With ReedProofs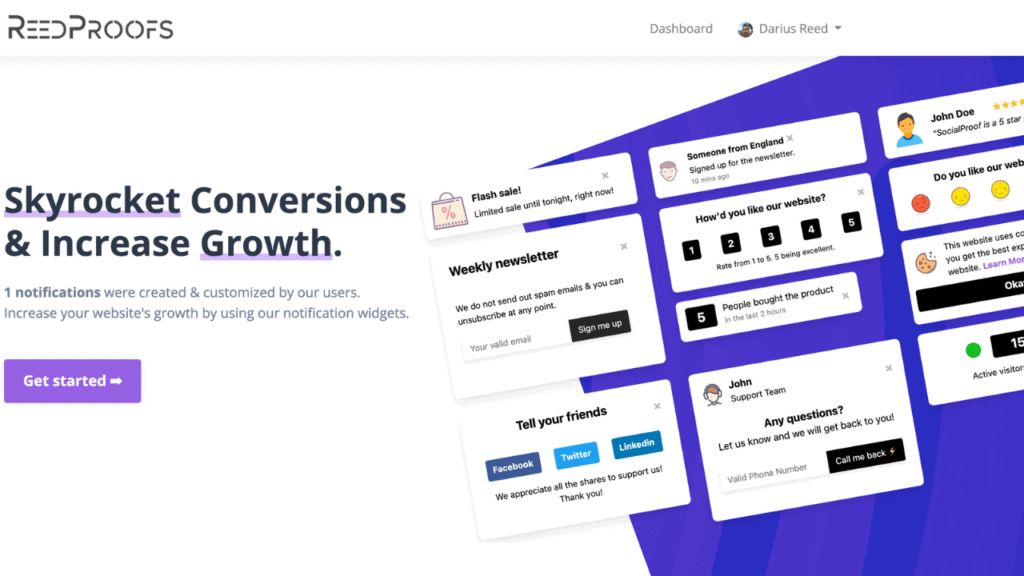 ReedProofs is my own cloud based software that will allow you to create Fomo, Scarcity, Social Proof pop-ups to engage and keep your website visitors. You will get unlimited free access to ReedProofs when you buy Profit Voice through my link.
14 included notifications
Unlimited campaigns
Create unlimited notifications
Highly customisable notifications
Notifications & campaigns statistics
MEGA BONUS 5: Free Account With Gradient QR Code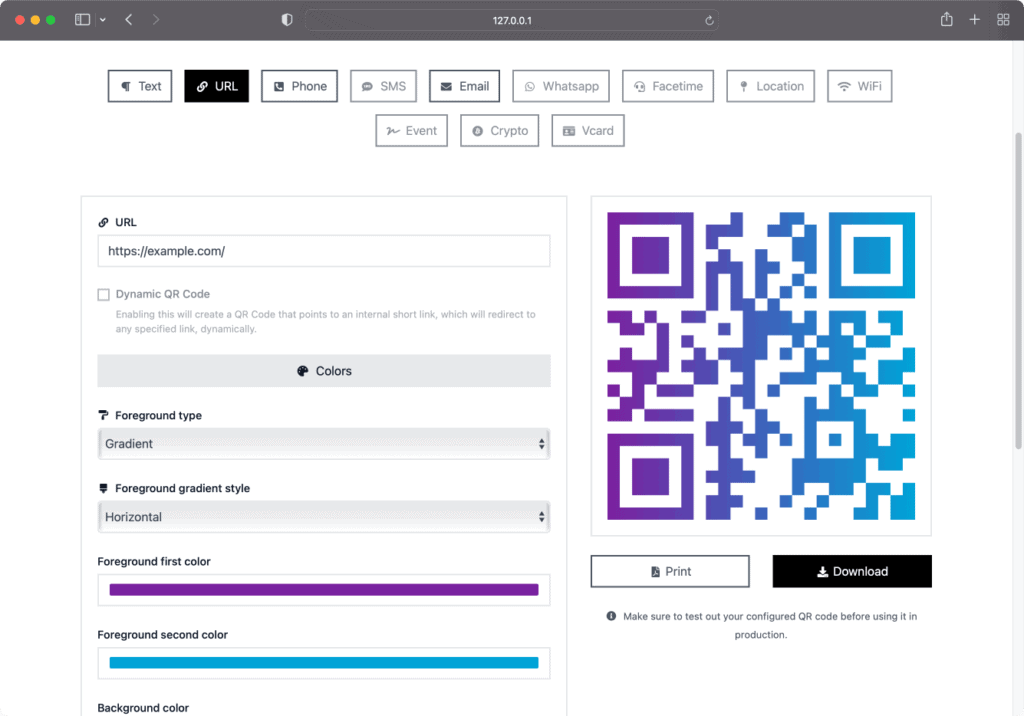 Gradient QR Code is the most performant, lightweight and easy to use digital QR Code maker software. Contains a large array of QR code templates to choose from and get started. Get unlimited free access to Gradient QR Code when you buy Profit Voice through my link.
Custom Bonus 6: What I Use To Rank Websites And Videos
In this bonus I will show you the websites I use to buy and get high quality backlinks for my websites and Youtube videos, and I will also share with you the tools I use to build my own backlinks.
Profit Voice Overview
| | |
| --- | --- |
| Vendor: | Mike McKay |
| Product: | Profit Voice |
| Launch Date: | 19.05.2022, 11 AM EST |
| Front End Price: | Starts at $17 |
| Launch Ends: | 23.05.2022, Midnight |
| Recommendation: | Recommended |
| Sales Page: | Click Here |
| Refund: | 30 Days Money Back |
| Niche: | Text to Speech Software |
Profit Voice cloud-based software and interface
thumbnail creator makes you stand out
publish & share instantly
commercial license built-in
AI based means next level editing doesn't have to be hard
groundbreaking tech lets you turn text-to-speech from 27 pro voiceover artists
instant translation included in 75 different languages
done-for-you included affiliate offers & videos
built-in podcasts like you've never seen before
subtitles let you reach a worldwide audience
built-in training & over-the-shoulder case studies
full SSL encryption keeps your data safe & privacy protected
24/7 white glove support
ultimate video maker for youtube, TikTok & affiliate offers
Now let's jump into the next section of my Profit Voice Review to find out more about Profit Voice features and benefits.
Profit Voice Review: Features & Benefits
Cloud-Based Text-To-Speech Software
Profit Voice runs fully in the cloud: there's no download or installation process. Just login, paste your text and watch it get turned into human-sounding speech. It's simple and it's fun and it can be done right away, on any platform, from anywhere on Earth.
Multiple Voices In 75 Languages
Your own army of voiceover artists, in different voice styles, with voice inflections you can choose from pick from over 75 languages.
Commercial Rights
With lifetime commercial rights built-in, you can sell voiceovers, translations or even entire video editing services on places like Fiverr and get paid handsomely to do so.
A.I. Based
ProfitVoice runs on AI code, which means you just have to tell the software what you want, and it will get it done for you. No tweaking involved for you. That means adding filters, animations, subtitles, watermarks and transitions are all 1 click away.
Podcasts Like You've Never Seen Before
Use the text-to-speech feature to turn any text into a fully fledged podcast in any language, then publish for traffic and sales on all major podcast platforms!
Subtitles Let You Reach A WorldWide Audience
ProfitVoice comes with subtitles in any language so you can now reach audiences in 180+ different countries. That's right ProfitVoice Subtitles gets you Netflix-level of market coverage!
The Final Verdict: Is Profit Voice Worth It?

So, I think this is a great product. Even though the sales page is a bit hipy, maybe too hipy, the product is high quality. I'm used with these guys to create crap products, cause this is what they done in the past.
And used misleading and hipy sales pages just to get the sale.
But with ProfitVoice I have to say that I'm impressed. Even though we have a bunch of other text to speech softwares in the market like Speechelo, Talkia, Synthesys and so on.
The voices that this app generates are very good. They use some AI based voices or neural voices, I'm not quite sure but the voices sound like a human voice. Now, about selling voice overs on places like Fiverr or UpWork.
Yes, voice overs are selling like crazy BUT, there is a big But….if you go and search for voiceovers, you will see that 80% of the listings on Fiverr, are real voice overs made by real humans.
And only a few will sell voice overs generated with a software. So, keep that in mind…you can't really sell these kind of services with AI tools. As good as they sound, you can't compare them with a real human voice. Even if you do so you must specify that you're using a tool.
So, overall is a great tool, cheap and it does what they say. So if you want a text to speech software you may want to check out Profit Voice.
I hope you find my Profit Voice Review helpful. If this is a product that you're interested in picking up then click the buttons on this page and get Profit Voice with my free bonuses.
Profit Voice Review: Frequently Asked Questions
Is ProfitVoice Cloud-Based?
Yes, ProfitVoice is a cloud-based website creator and funnel builder solution easy to access from anywhere. Works with Mac, PC and mobile.
Does ProfitVoice Cost A Monthly Fee?
You're getting one-time access to ProfitVoice without ever having to pay a monthly fee.
Is Support & Training Included?
Absolutely. By purchasing today you can get instant access to the training portal and the 24/7 support desk.
Do I Need Any Tech Skills Or Experience To Make This Work?
NO – ProfitVoice is seamless and 100% newbie friendly..
Grab your Profit Voice license now completely risk free. Your investment is covered by the no hassle, money back guarantee. Thank you for reading my Profit Voice Review. I'll catch you up in my next review article. Bye for now!