Hey and welcome to my ProfitDev Review. It's Darius here from Reed Ratings where I give honest digital product reviews along with awesome bonuses for products I truly believe in.
ProfitDev is brought to you by Mike McKay also the creator of Phone 4 Kash, Profit Funnelz, Chat 4 Kash, Profit NFT, Kash 4 Watching, ProfitWriter, ProfitGram, ProfitPrime, ProfitSend and many other software products.
So the big question is, is ProfitDev really worth your money? I'll tell you if it ticks all the boxes, and if it does, I'll give you some awesome complimentary bonuses you can only get from me today.
My goal is to help you make an informed decision so you don't end up wasting your money. Now let's jump into the next section of my ProfitDev Review to find out what exactly ProfitDev is and how it can help you and your business.
What Exactly Is ProfitDev?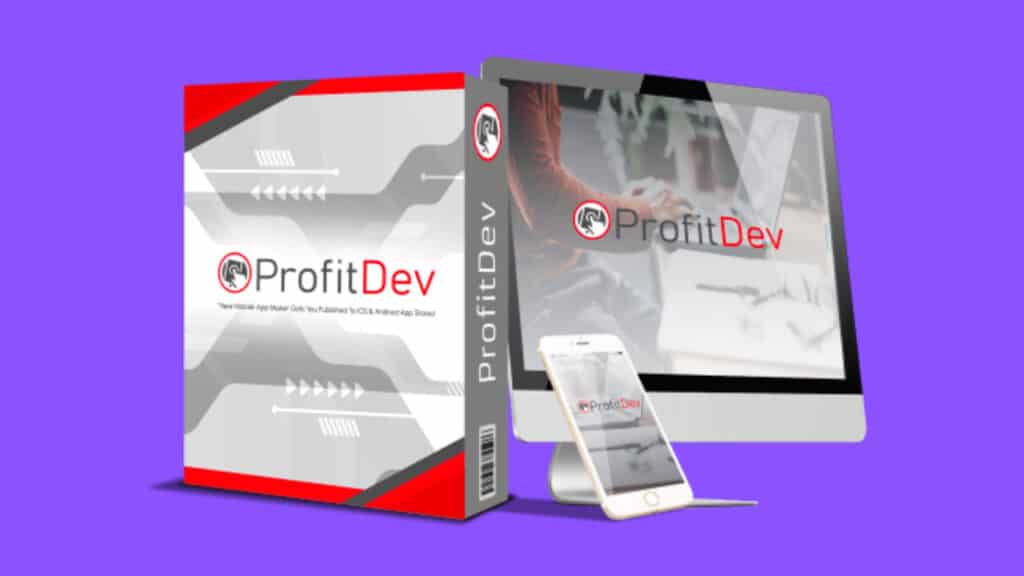 ProfitDev is a cloud based software that allows you to create mobile apps from scratch, a website or from built in templates. And these apps can be uploaded to App Store or Play Store. For Android and iOS devices.
Comes with commercial license that allows you to also sell these apps to other businesses, local businesses, on places like Fiverr or UpWork. And to be honest is easy to use and has a friendly user interface.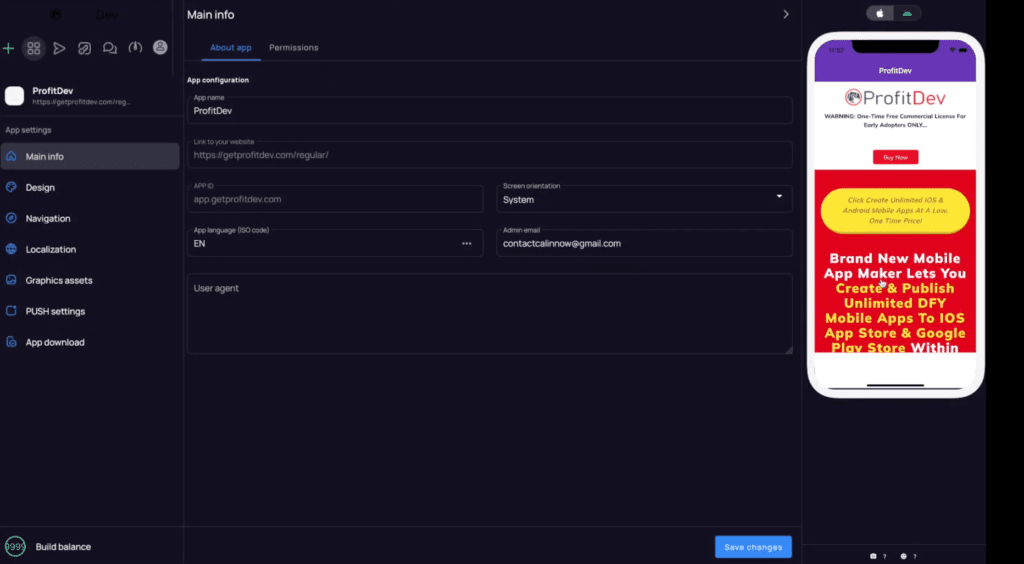 With ProfitDev you can customize your mobile app as you see fit. It offers design, navigation, menus, infos and also push notifications that allows you to send push notifications. And after you create your app all you have to do is to download it.
For Android or for iOS devices. Then you can publish it. As it seems, ProfitDev works ok…but it's a bit buggy. And my concern is, ProfitDev comes from a vendor on Warrior Plus who brought to the market more software apps just like ProfitDev.
ProfitCell and ProfitApp were launched in the past and both do the same thing, build mobile apps. And now we have ProfitDev, which is the same thing, builds mobile apps. And not to mention that previous launches don't look really good in term of reviews.
They got like, under 2 stars reviews. So I can't really trust this vendor and his launches. Now let's jump into the next section of my ProfitDev Review to find out how ProfitDev works.
How ProfitDev Works?: Demo Video
Now let's jump into the next section of my ProfitDev Review to find out more about ProfitDev pricing and upsells.
ProfitDev Review: Pricing & Upsells
Front End Offer is the main software ProfitDev which will cost you $17. For the front end offer the price you see now is available only during the launch period.
After the launch, which ends on the 22nd of August 2022, price may increase. Also, the frontend access doesn't depend on any of the upgrades to work, it works fine just on its own BUT it is also limited.
Now, there are currently 5 upsells, which is a lot! You don't really need all of them to use ProfitDev, but they might come in useful depending on your situation and usage if you eventually want to buy ProfitDev.
Upsell 1: ProfitDev Pro Edition – $37 / $27 (DS)
Upsell 2: ProfitDev Enterprise Edition – $47 / $37 (DS)
Upsell 3: ProfitDev DFY Edition – $39 / $29 (DS)
Upsell 4: ProfitDev Reseller Edition – $197 / $97 (DS)
Upsell 5: ProfitDev IMX Bundle – $97 / $67 (DS)
Now, I don't have much information about these upsells because they don't offer much, but as you can tell, there are a lot of upsells. And just thinking about buying all of them will cost you over $600 which is a lot and worthless at the same time.
ProfitDev Review: Bonuses
So, as you probably expect, I don't like this product, I don't recommend it and I'm not promoting ProfitDev. So no bonuses will be available for this product. Sorry! I could promote ProfitDev and give you a bunch of tools from the vendor.
These vendors always give bonuses to affiliates because bonuses do work and most of the people buy a product from an affiliate that offers bonuses. But I can't give you more tools that are worthless.
They give access to previous products that they launched in the past, but as ProfitDev is crap, so are those as well.
ProfitDev Overview
| | |
| --- | --- |
| Vendor: | Mike McKay |
| Product: | ProfitDev |
| Launch Date: | 18.08.2022, 11 AM EST |
| Front End Price: | Starts at $17 |
| Launch Ends: | 22.08.2022, Midnight |
| Recommendation: | Not Really |
| Sales Page: | Click Here |
| Refund: | 30 Days Money Back |
| Niche: | Mobile Apps |
Now, the sales page, it's a typical sales page from these guys, it's just a simple product hyped up through marketing and misleading sales page. The software works but it's crap and basic and they make it sound like this is the next big thing to make you a millionaire.
Plus all the income screenshots are pretty much from these guys selling software products online, like this one, and promoting other people products and making affiliate commissions on Warrior Plus.
I don't like the way they market this product and the product overall. There are way better alternatives. Now let's jump into the next section of my ProfitDev Review to find out more about ProfitDev features and benefits.
ProfitDev Review: Features & Benefits
So, the bold claims that you see below are what they are saying about ProfitDev. But in my opinion these are just hype.
Cloud Based Software Creates Unlimited Mobile Apps From Scratch – $997 Value!
iOS and Android Compatible Gets You Published On the Biggest Markets On EARTH – $997 Value!
Drag & Drop Editor Lets You Tweak Everything With ZERO Coding Involved – $997 Value!
No Website Or Hosting Needed – We Build REAL Apps Not Progressive Web Apps – $997 Value!
30+ Done-For-You App Templates In Any Local & Online Niche – $997 Value!
Our Apps Open As Apps And Not Safari/Chrome Web Browser Shortcuts – $997 Value!
Get Ranked & Featured on iOS App Store and Google Play Store – $997 Value!
COMMERCIAL LICENSE To Sell these Apps To Clients Or Build Them Apps From Scratch – $997 Value!
New For August 2022: The ProfitDev AppWizard Legally Hijacks Other People's Content & Turns It Into Mobile Apps For You 24/7 – $697 Value!
Design Editor For Mockups, Screenshots & The Perfect App Store Presentation That Makes People Download & Buy – $497 Value!
Built-In Traffic Using Next-Gen Mobile SEO Practices – $497 Value!
Built-In Training To Get Your Apps Published & Generating Income – $497 Value!
Send Unlimited App Notifications To Customers Phones & Lock Screens – $497 Value!
24/7 "White Glove" Support – $497 Value!
SSL Encryption Keeping Your Apps Secure – $497 Value!
When you see the value for each individual feature and you add that up, makes you go crazy…The value for this product is $10.000 and they sell it with $17. Seriously?
And let's not talk about other affiliates that promote this product and they also give you bonuses worth millions of dollars. This makes you laugh!
Is ProfitDev Legit?
It's legit (ish) but it's crap! Like, I can't really say that is not legit. But the marketing of this product is misleading. False income proof on the sales page and fake testimonials. I hate that. And this won't make you a millionaire overnight. You may not even make a cent if you don't have an email list.
And based on what profile this vendor has on Warrior Plus, as you can see below, I don't recommend it. All his previous products reviews are under 2 stars, which is really bad.
An indication that this vendor cannot be trusted.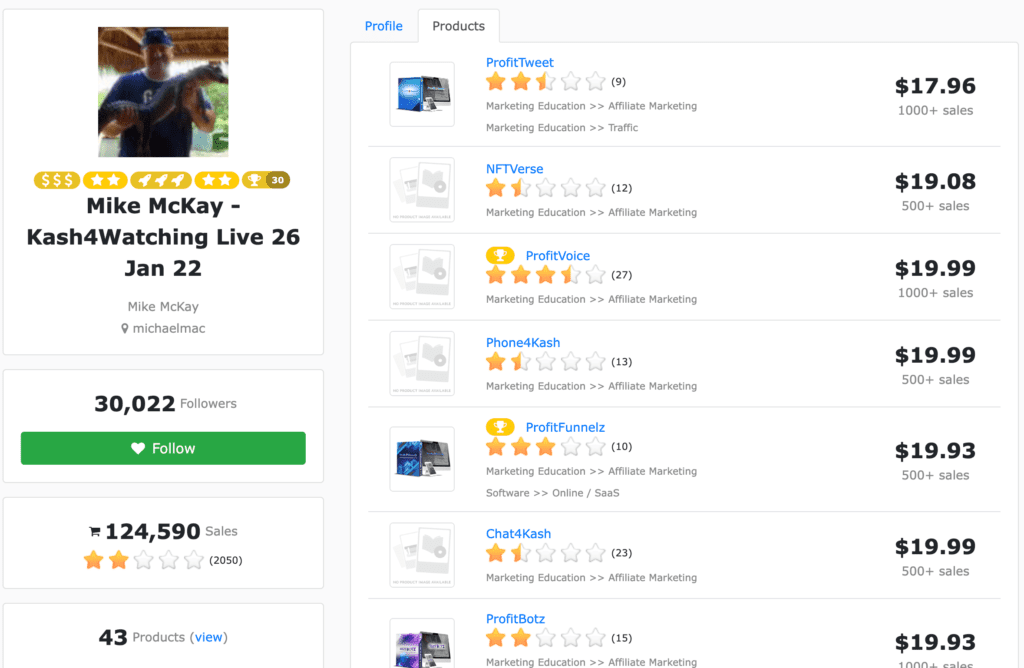 ProfitDev Alternatives
Affiliate marketing is, in my opinion, the best way to make money online. You don't have to create your own products or softwares, you just promote other people's products and earn commissions when someone will buy that product through your link.
It's a great business model to follow and I do this for a living. So if you are interested in a legit program, from a trusted person, that will teach you affiliate marketing I highly suggest you check out 7 Figure Affiliate System.
I've done a review, you can check it out here. This is one of the best affiliate marketing programs I've came across in 2022.
Or, if you want a legit mobile app builder you can go with AppOwls or Appimize.
The Final Verdict: Is ProfitDev Worth It?

So, this software may work, but I just can't say that this is something worth trying because it's not. The guys behind ProfitDev also brought to the market multiple software exactly like this one, that promise to build mobile apps.
And those have bad reputation, under 2 star reviews, etc. And ProfitDev, may as well be a rehashed version of previous launches, like ProfitApp or ProfitCell. So, I don't trust this software is good based on what reputation this vendors has.
In my opinion, you should avoid ProfitDev. But as always it's up to you! I hope you got some value out of my ProfitDev Review and hope this opened your eyes.
ProfitDev Review: Frequently Asked Questions
Why Will This Work For Me?
No, I can guarantee that this won't work for you, me or anyone else. Those testimonials from the sales page are pretty much fake, in my opinion.
Is There A Money Back Guarantee?
Yes, you are 100% covered by a 30 day money back guarantee. But, from my experience and from the people who bought these kind of products from these vendors, they haven't received refunds or even customer support.
Are There Any Monthly Fees?
Right now, no! They've eliminated the monthly fee for the special introductory launch period. But, even if they say the price will increase, it's just fake scarcity. The price will be the same, forever.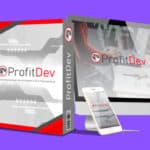 ProfitDev Review – Legit or Overhyped?
PROFIT DEV
CONCLUSION
So, this software may work, but I just can't say that this is something worth trying because it's not. The guys behind ProfitDev also brought to the market multiple software exactly like this one, that promise to build mobile apps.
PROS
I can't think of any
CONS
You have to buy at least 1 upsell in order to unlock more features.
I don't find app useful at all.
Misleading sales page.
Thank you for checking out my ProfitDev Review. I'll catch you up in my next review article. Until then, keep your money, stay safe and bye for now!