Rachel Rofe has a new YouTube ad where she's standing in front of shelves filled with massive rubber duckies. A catchy way to snap people out of their video-watching-stupor and make them pay attention. Some might even resist hitting the Skip Ads button and listen to what she has to say. "Wanna know the best way to potentially make a big income online?" she begins in her signature soft-spoken voice. "It's by making lots of small incomes online." Read on to see how Rachel uses Amazon, Etsy, and eBay to pull this off.
To be exact, Rachel has built five thousand one hundred and seventy-one mini income streams. They each cost zero dollars to setup. And took less than ten minutes. She's created a method to create these itty-bitty digital income streams that, individually, aren't life changing. But when you add them up, they've allowed her to quit her job as a Walmart cashier and live the life of her dreams.
She now generates a very healthy income each month. No matter if she's working, relaxing, hanging out with her family, or riding a camel in Israel. "This amazing system has given me the kind of lifestyle that most people can only dream about," she says. "No bosses, no commute, no long drives, freedom to choose how my time will be spent, financial security, and complete peace of mind."
Yes, Rachel's Amazon hustle still works today, even in these turbulent times. Rachel travels when and where she wants, lives where she wants, takes good care of her little nephew Gabriel, who she absolutely adores. All possible thanks to her print on demand process. The best part? These mini income streams cost absolutely nothing to setup and take less than ten minutes each, Rachel reminds us.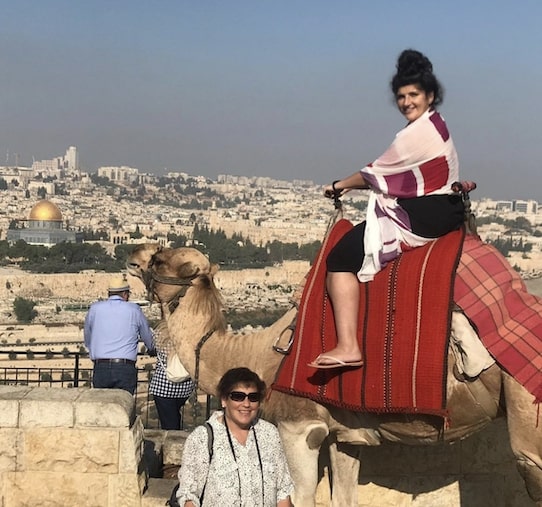 Will it work for you? Potentially, she says. But you won't need any special skills or experience. You won't need a product of your own to sell. You won't need an existing audience to market to. You won't need a website. You won't have to worry about driving traffic (Amazon, Etsy, and eBay already have millions of shoppers on their sites each and every day). No phone calls either. You can do it all in your spare time, even with a full-time job.
And still, Rachel says you could be up and running in as little as two weeks. Totally beginner-friendly. Don't need to be a tech genius. She's got you. "Hey, we're all super busy," Rachel continues, "but if you have a spare thirty minutes a day, a computer, and an internet connection, join me on my upcoming workshop where I'll show you step-by-step exactly how I go about setting up these mini income streams."
After you attend the workshop and Rachel gives you the overview, she'll invite you to join her Low-Hanging Ecom System. It costs two thousand bucks. Yes, it's legit. No, it's not a scam. About the farthest thing from it. It's a great business model taught by a brilliant internet marketer in Rachel Rofe. If you would like to compare and contrast it to what we do, please check out the resource referenced below.