Kimberly Carver is the fabulous face of a company called Transportation Academy. They sell courses, consulting and packages to help you launch and grow your own trucking and freight brokerage business. Back in the day, Kimberly made $60k in 30 days starting her own transportation business with no prior experience or industry knowledge or CDL (commercial driver's license). Can she help you follow in her footsteps? Let's find out. Read on for my review.
If you've got some money saved up and you wanna get your slice of the billion dollar transportation industry, this is for you. Transportation Academy will train you, provide you with a proven system that has already generated more than $38 million for students so far, assist you with the day-to-day operations, and provide you with the resources and tools you need to be successful in this space. You can think of it as a turnkey startup transportation business. Cost is $5k and up for coaching, $10k and up for done-for-you services.
Kim wants you to imagine building this up to where you're doing $50k a month in profit. You quit your job and do this full-time. You're working every day but it doesn't feel like it. It's fun, it's rewarding, it's yours. You can now buy you dream home, your dream car, pay for your kids' college. Maybe invest in real estate on the side. Start thinking about generational wealth, leaving a legacy behind. Granted, you have to believe in yourself, you have to take a big risk, you have to follow through and do what needs done.
But all that's entirely possible with this business and with Kim and company in your corner. Invest in the information to get it right the first time. There's no need to make mistakes and waste time and money going it alone. The Transportation Academy can show you how to get funding for equipment; where and how to find your drivers; ditto your clientele; how to build a team to support you on this journey; how to do the books; how to scale up; how to future-proof the business; and so much more.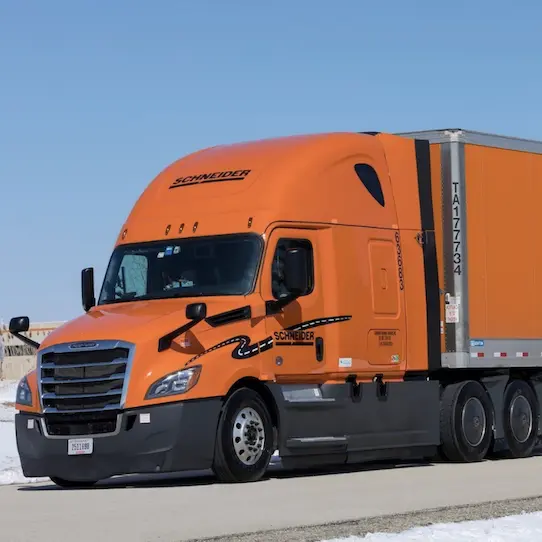 What are Transportation Academy members saying? Well, take Brian. He had just finished serving a 12-year prison sentence. Got out, wanted to do something positive with his life. Booked a call, took the plunge, went on to make $110k in his first three months. If you do what's required of you, Kimberly's confident you'll make back whatever you pay them within the very first week of joining. She'll even put it in writing with a money back guarantee. Something most trucking automation companies would never offer.
Another guy, Tema Woods, filmed a short video to say: "I wanted to give a quick testimonial of my experience working with Kimberly Carver and Transportation Academy. Following the blueprint that Kimberly laid out, putting in those hours, putting in that work, I have created a successful trucking company. In the past two months we did about $48,000 in transportation. We're well on our way to becoming a multi-million dollar company. You too can be a success if you decide to get into this industry."
The other testimonials were more just people saying that they had enrolled and they were excited, maybe they had gotten a semi lined up, but I didn't hear anything about any money being made. I get good vibes from Kim and I know she means well, but I wonder if this opportunity is getting saturated now that I've reviewed about a dozen other make-money-with-trucking offers. With UPS and FedEx and XPO Logistics and such, how much meat is left on the bone for these small-time owner-operators, ya know?