Russell Brunson has officially stepped down as the CEO of ClickFunnels. After seven years of incredible growth, shattering every goal they set, he was at a point where he didn't know what he wanted to do with his life. He was stuck working on the administration side of the business ninety-five percent of the time. Management, meetings, spreadsheets, stuff like that. He missed being creative, actually building things, marketing. He had reached a point where he just wasn't happy. Read on to see how one larger-than-life guru helped him make this difficult decision.
Russell had flown to Fiji to take part in this elite mastermind led by none other than Tony Robbins. He could ask Tony any question he could dream of. So he asked him if he should step down as ClickFunnels CEO. Tony gave him some great advice. He said, if Russell was really missing the art, the creative side of the business that much, yes, he should find another CEO; that Russell should become a chairman instead. Matter fact, that's exactly what Tony had done in his own business.
Russell obviously took Tony's advice. And now that he has switched roles, he believes it's one of the best decisions he's ever made. "If you look at how ClickFunnels started, it wasn't like we had this big idea, got a bunch of money, and hired a whole bunch of people," Russell says. "It was me and Todd [Dickerson, his cofounder] in a room, and Todd was coding, and I was like the marketing guy. And we had this product and we started selling it."
"And I was doing customer support and he was doing customer support and Todd and I looked at each other and he was like, 'Well I'm running the product and you're in charge of the business,' and so, kinda by default, I had to pick up the CEO hat and put it on, even though I didn't really know what that meant. I'd never even been a CEO. I didn't know what a CEO did. I just knew that that was the role that I kind of grew into."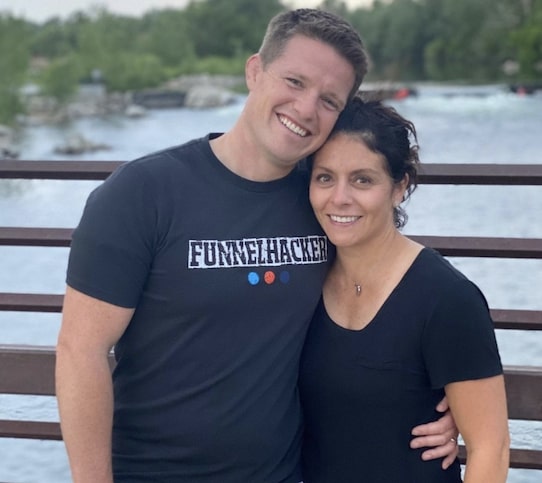 When Russell got back from Fiji, he started looking around. What should I do, who should I hire, who can I trust to hand off all these responsibilities to, he wondered. Dave Woodward was the easy choice. He was always coming into the ClickFunnels headquarters, asking what he could to to help. Slowly but surely Russell began handing him important assignments, which Dave knocked out of the park. When the time came to pass Dave the baton, it was seamless.
Now Russell's back to doing what he loves: being one of the best marketers and marketing educators on the planet. Meanwhile, Dave is doing just fine holding the reins. He is changing the internal culture of ClickFunnels, everything is being rebuilt from the ground up, customers are getting served at an even higher level. Russell will be building and testing new funnels you can plug into your own business. Summit funnels, challenge funnels, giveaway funnels, you name it.
Russell has also freed up more time to be able to get back into seminars, workshops, his Inner Circle, his coaching programs and masterminds. He gets to get his hands dirty again, get back to the art. One of Russell's biggest takeaways is you have to learn to let go of ego. Being the CEO, the number one person in a company, comes with a lot of status and power. But so what, if you're not happy? You need to be willing to let others step in and take over, so you can do you, but with a smile on your face.