Bryan Park is the owner of Footprints Floors, a company that offers hardwood, vinyl, laminate, and tile installation, as well as flooring restoration and refinishing services. They also have a franchise opportunity, which is why you're here. They consider it the number one service franchise in America. You can apparently expect to earn $247k in gross profit, working on your schedule. Cost for one location is $78,805. You can get a discount on multiple locations.
Bryan grew up in Denver, went to high school there, graduated, and enrolled in the Air Force Academy in Colorado Springs. "Didn't really know what I wanted to do with my life," he admits. "Newly married, we were moving back to Denver, and we had gotten three puppies. And I came home and our puppies had eaten all of our carpet. So we ended up hiring a flooring company, a hardwood company to come in and put in floors. And I was looking for a job at the time and I was watching this guy install the floor."
"And I was like, 'How much money you make doing this?'" Bryan continues. "And he's like, 'I dunno, $80-, $100 grand.' And so I called up that company and I started installing, sanding, and finishing floors. And I did that full-time with my own hands. Learned it all for the first couple years with them. And then in November of 2008, they sat me down and let me go. So here I am, $35,000 in debt, in the middle of the worst recession since the Great Depression. Right?"
So Bryan borrowed some money from his father-in-law; bought some old, busted-up gear; got it repaired; and started walking neighborhoods, putting flyers on doors, I'd hang out at Home Depot in the aisles trying to drum up business. Eventually a call comes in. It was his father-in-law's neighbor. Large project. Bryan did the whole thing himself. Took the profit, dumped it into marketing, and things just kinda took off from there. Leads were trickling in, he's out doing estimates, getting a job here and there.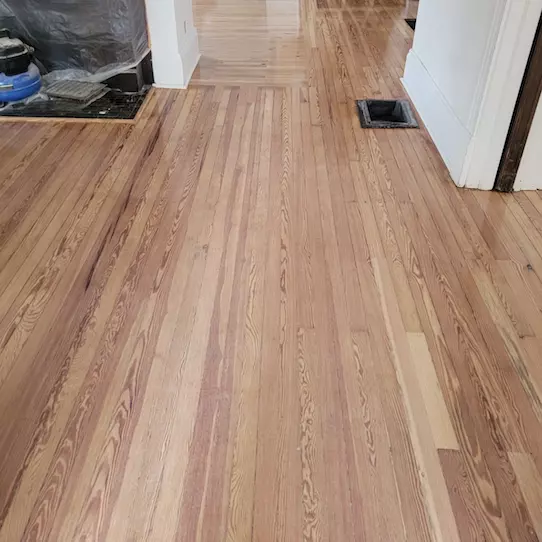 Fast forward a few months and Bryan had like five other crews working under him. Eighty-hour work weeks were the norm, but boy was it paying off. That first year, they did over a half-million bucks in sales. "And that was the beginning of Footprints Floors," he recalls. "Within a few years we had become the largest installation company in all of Denver. Continued to grow. Started franchising in Colorado in mid-2019, and haven't stopped. Today, we've got more than 51 franchisees and 100+ locations now."
Great story. Seems like a humble dude. Definitely earned it the hard way. Does that mean you should invest in your own Footprints Floors franchise? Well me? I might break a nail. But for the guys out there that don't mind getting dirty, doing backbreaking work—or managing others who do it—here are the top six benefits. One, outstanding profit. As I said earlier, the average across all franchisees is about $250k in gross profit. Unfortunately, they don't drill down and tell you what the average net is.
The second advantage is low overhead. No employees, no showroom, no rent, no construction, and no HR costs. (I'm guessing you have independent contracts though?) Three is, compared to other franchises, the setup fee is pretty low. Four is control and predictability. Set your own hours, never run outta work. Five is they handle your marketing, your social media, and your scheduling for you. Last but not least, six is rapid growth. There's still plenty of cities that are wide open, with huge demand.