Rory Morgan says enough with fake marketing promises and worthless "me too" tactics; he'll show you how to add an extra 20 to 50 sales a month, all while working less. Can he though? Or is the 7 Figure Strategy ad he's been stalking me with on YouTube just a bunch of hype? You're about to find out. Scroll down to read my Brand Lab review.
Do you feel like you've tried it all already? Facebook ads, Google ads, events, a new website, and yet nothing seems to work? Are you left feeling frustrated and helpless, wondering if it's even worth it? Or maybe you've tried outsourcing it to the "experts." You've hired one or more advertising agencies who talked a good game but didn't deliver. Or, maybe you're doing well by everyone else's standards. Maybe you've hit that seven figure mark, but you've plateaued and can't seem to get unstuck.
Whatever the case, you're probably making one of four mistakes, Rory says. One, you're an excellent practitioner but awful CEO. Two, you're lacking an overall strategy. Three, you're targeting everyone instead of your ideal clients. Or, four, you haven't differentiated yourself from your competitors. So before you do anything else, you have to patch all four of these holes.
You have to commit to working on your business and not in it. You should be focused on branding, partnerships, processes, and systems. In terms of strategy, you need proper messaging, nurturing, and screening that bubbles up your best buyers. Next, you're filling your funnel with content (especially video) that educates, builds authority, and moves them closer to a sale. Finally, you need at least three different ways to fill your pipeline with leads.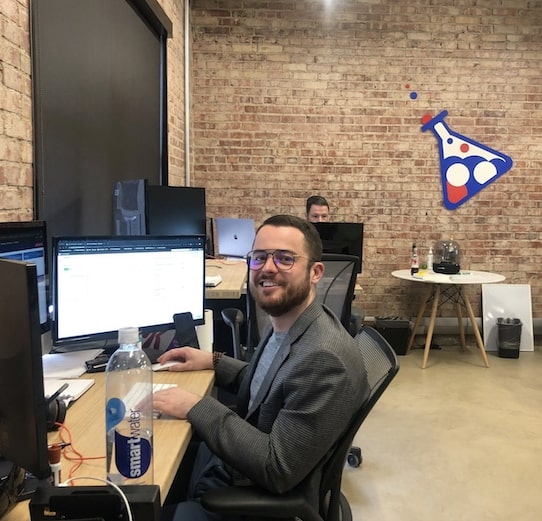 "So at this point what I'd like you to do, if you're a business that does have some significant growth goals, and if you do want to start to move into that CEO role where you can be more of a strategist and start creating a little more control and freedom in your life," Rory says, "is to set up a 20 minute call where we can talk to you about what's going on; we can find out about your challenges; and we can really determine if it might make sense to implement some of these strategies."
Rory doesn't disclose how much it costs to work with Brand Lab Media. I have mixed feelings about what I saw. On one hand, he seems like a no-nonsense guy. I don't think you have to worry about Rory ripping you off or anything like that. On the other hand, I found his style very dry and, to me, it seems like he's overcomplicating things. CEO this, strategy that. "Just show me what you do and tell me how much I need to pay and let's make some damn money."
That said, Brand Lab Media has dozens of video testimonies. They must be resonating with some people and doing a decent job once they bring them on as clients. I'd be curious to hear about your experience should you hire them. Either way, before you go, why not learn our proven process for attracting premium leads without risking a penny? The link below will fill you in.