Mitch Gonsalves says Elon Musk has it all wrong. Working longer and harder is not the answer. In fact, it was only when he started doing less that his consultancy jumped to $2.4 million in a single year. Now he wants to show you how to scale to $100k per month in under six months. How can he make such an outrageous claim? Read on for my Executive Advantage review.
Mitch claims to have already helped 370 clients reach $10k to $100k per month, without spending a dime on paid ads, thanks to his "horizontal scaling method." And no cold outreach or complicated sales funnels either. So what's his process? In his pitch video for Executive Advantage, he gives the mile high overview.
First, simplify everything. Stop watching Netflix and going out for beers with buddies. Whittle your business down to one offer that solves one problem for one specific client; and productize it so fulfillment doesn't become a bottleneck. Second, implement systems and processes for lead gen, sales, and support. Third, create minimum viable assets: a complete profile on one platform to reach prospects; a pre-selling mechanism to book appointments; a phone or Zoom account to take sales calls; and a Stripe or merchant account to collect payment. Fourth, figure out your unique value proposition to stand out and command higher fees. Fifth, hire A-players to delegate critical tasks. Sixth, hire a mentor.
All good advice; advice I strongly agree with. But if "less but better" is what Mitch is selling here, why not just read books like The 80/20 Rule, Essentialism, and/or The ONE Thing? Why invest in his Executive Advantage Enterprise Elite mentorship? I mean, yeah, there's probably some value there. Support, accountability, tools, resources. But is it worth thousands of dollars? I'm not sure it is.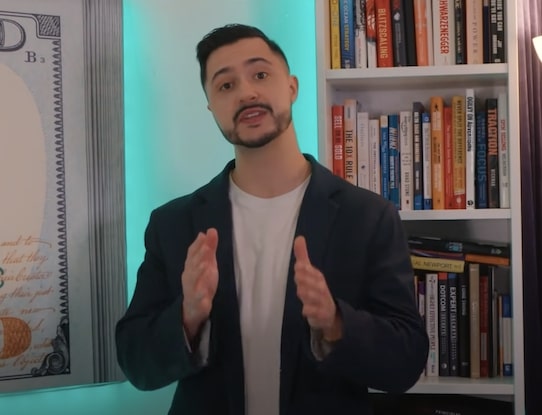 And there were a few other things that bothered me about Mitch's messaging. One is the income claim. I'm sorry but repeatedly implying that anyone who joins Executive Advantage will hit six figures a month within six months of joining? Shame on you, Mitch. That's called lying.
Truth is, scaling to $100k months is incredibly difficult and statistically proven to be unlikely to happen ever for the average person, let alone in under 180 days. If I'm wrong then I guess Mitch will single-handedly drive up the stats for the top one percent income earners in the United States; and I look forward to seeing him credited with the substantial uptick in millionaires.
Second, how's he going to say "no paid ads or complicated funnels necessary" and then use both to sell us? Are we just supposed to ignore that part? And say, for traffic, he does have a good organic strategy. Maybe it's LinkedIn outreach. Okay, but he also said "no cold outreach." Is that not what that is? Look, I see this all the time. I don't think Mitch is an evil guy; I just think he went a little too far in his marketing and he needs to dial it back.
Third and final, are you really running an ad insulting a billionaire business magnate who has revolutionized travel on ground and possibly space? While you stand in front of an IKEA bookshelf full of books you're borrowing ideas from while promoting a become-a-millionaire-in-six-months program? Is that what I just witnessed? As it stands, I can't recommend or respect Mitch Gonsalves or his Executive Advantage coaching.