Joel Erway turned a $500 course into a high ticket $10,000 offer, and so can you. "See, if you're getting burned out selling your course," he says, "there's a good chance that your funnel is backwards. And you're not charging enough. Most people are taught to build a marketing funnel to sell their course. That's the hard way. Maybe you've heard this called The Ascension Model. It's low ticket; it uses posting on social media; lead magnets; free Facebook groups; and a long webinar."
While that can work, it's flawed. It requires a lot of patience, time, and money. Not only that, but you need to be an expert marketer, copywriter, and media buyer in order to pull it off. That, or you need to hire a team of professionals to do it all for you, and that's gonna cost a small fortune, isn't it? So what if there was a better way? According to Joel, there is. He calls it The Reverse Funnel. It reels in ready-to-buy clients right now, and they're willing and able to pay a premium to work with you.
"Come to my free on-demand training where I will show you how to create a Reverse Funnel yourself," Joel says in a new YouTube ad. "When you click the link and enter your email, you'll see how over 1,295 course creators are launching and growing their courses 10 times faster with this simple, foolproof system. The Reverse Funnel gets people who have never even heard of you to buy within days or even hours. Without using an elaborate, complicated funnel at all."
"And you don't need a huge audience either," Joel continues. "And you don't have to do SEO or email marketing, nor will you have to spend $10k on paid ads. It's designed to help entrepreneurs who want to exceed their primary income stream by marketing less and selling more, no matter what niche they're in. The best part? It funds its own growth. So you don't need to lose money before you make money. And once you get the science down, the system pretty much runs itself."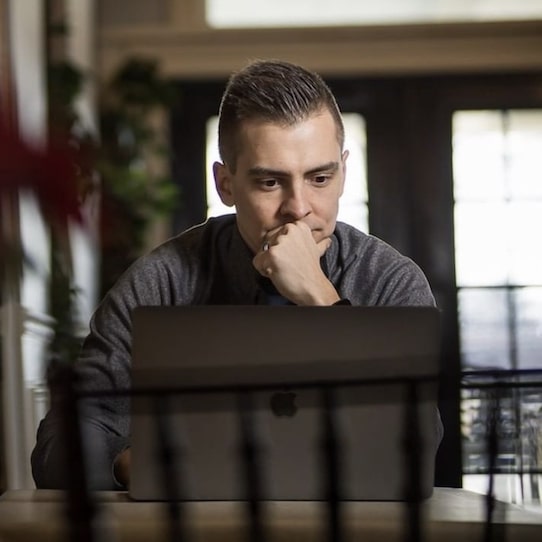 The result? You'll enjoy newfound time and financial freedom, allowing you to live life on your own terms. You can take the fam on vacations whenever you feel like it. Plan on only working about four hours a day, four days a week, Joel says. And when you attend his on-demand training, he'll show you how one simple sentence could easily earn you as much as $10,000, if not more. And why a de-scension model is actually the best model for course creators like yourself.
"And, you'll discover, how a simple 10-minute video is all you need to hit your first $30,000 months with your course," Joel adds. "But here's the catch: if you're looking for slow and steady growth, The Reverse Funnel is not for you. I'm looking for action takers who wanna get faster, better results, without making their own 4- to 5-figure mistakes and without working 80 hours a week on their business. I'm looking for people who wanna wake up in their beach villa, knowing their funnel's already profitable before they even check their phones."
So if you're ready to throw the need-more-money-work-more-hours approach in the dumpster and set it ablaze, Joel insists his High Ticket Courses program is the answer. If I'm honest, it feels like he's trying too hard in this ad. I think he's overselling it, big time. Maybe he had too much caffeine before he filmed it? I dunno, because I've been through previous funnels of his and he was much more humble and believable. This leaned a little too far in the get-rich-quick direction for my liking.