Mark Stubler is the CEO of Joe Homebuyer, the nation's leading home buying franchise. "Our mission," he says, "is to improve lives by delivering creative real estate solutions. This is the idea that we're out in the marketplace providing real service to real families in need of getting out of their real estate properties. Our franchisees specialize in helping these families solve everyday issues or homes that they inherit—like how to get out of a situation that they don't want to be a part of."
Mark continues, "We have franchisees all across the country. They're all providing a meaningful service for homeowners that are ultimately done with their real estate property. So it's fun to engage with our franchisees, as they find real solutions for real families in need, to move on from the situation that they're in. Joe Homebuyer's unique, it's special, because we have a dedication and a determination to make sure that we're not just building out the right systems and processes, but we're pouring into each one of these location owners."
Everyone who buys in has to thrive, they have to win. For this reason, Joe Homebuyer's not out there just trying to sell as many locations as they can. They're far more interested in going deep with less people. But how do you make money with 'em, right? There are three main ways. Wholesale, fix and flip, and rental income. They'll train you up on each monetization strategy and help you determine the right one for each of your acquired properties. But I know what you're probably thinking right about now.
How'll I find these deals and do I have to fund 'em myself? Right? Well, rest assured, the team at Joe Homebuyer will show you how to uncover great deals on both single family and multifamily properties and get 'em under contract without using any of your own money. They don't say on their website what it costs to become a franchisee, but at least they don't ding you any extra on any of your deals (no hidden fees or commissions, and they even cover the closing costs for ya).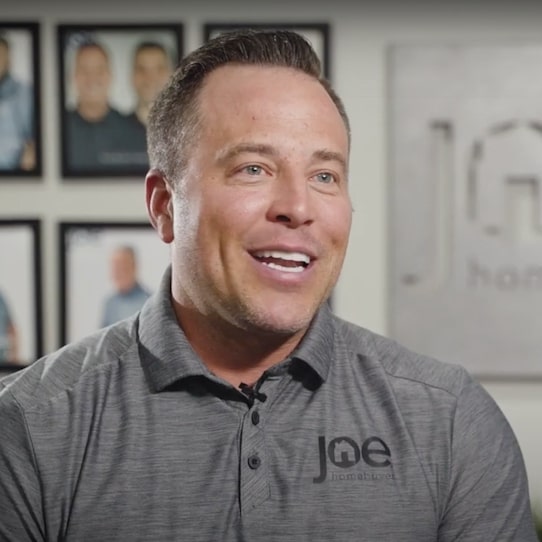 "We knew it'd be something special," cofounder Cody Hofhine says, "but this has quickly turned into something even bigger than we imagined. A lot of people in America in general wanna get into real estate, and Joe Homebuyer has found a way to really tap into how to do that successfully by finding off-market, deeply discounted houses—so you can really grow your wealth and more importantly, get that time freedom that we're all looking for."
"We just knew that there was so many people that were looking to thrive," Cody continues. "They're looking to scale, they're looking to grow a business. Or, more importantly, for those that have never been in real estate—that want to get into real estate, but do it in a way that allows them to win and win quickly. And so, we franchised it to not just say that Hey, we have a process that we want to start getting available to everyone, but there was individuals struggling and so we felt obligated to bring this to market."
I guess I don't see the point in joining. If they were doing the lead gen for you, different story. But if all they're doing is teaching you best practices for finding distressed sellers, I mean, couldn't you save tens of thousands of dollars and just buy one of the many courses that are out there? Maybe in the future there'll be that brand recognition that makes it easier for you to close deals—if you're wearing the ole Joe Homebuyer polo—but it's got a ways to go before it's the McDonald's or Subway of home buying.