Los Silva is the face of PowerHouse Brands, which he runs with Josh Snow. They've got a C4 Client Capture Method that'll add an "easy" 6- to 7-figures to your business this year. Charge what you're worth. Make 'em come to you. Create life-changing results for you and your clients. Earn more, work less—with this proven and repeatable system. Okay, how? And what's the catch? And does one need forearm tattoos and cool clothes for it to work?
Los wants you to know he's qualified to talk about this stuff. He owns multiple agencies in the ecommerce, social media and creator spaces. He's got a Deal Flow Brokerage website. He's spent over $100 million on advertising. He's launched, scaled and sold several 7- and even 8-figure brands. And he's helped hundreds of others do the same. He wants you to imagine what it would be like to work with 10 to 20 dream clients a month, each of 'em paying you $5- to $50k.
Not only that, but you could fulfill your promises to them in just a few hours a week without needing a big team. Plus your pipeline will be full of prospects who already know, like and trust you and are eager to join as well. Hmm. Why do I feel like this would only work for guys like Los, who're involved in all these expensive masterminds full of metrosexual males who'll buy anything they sell because they just wanna feel cool and they're already drinking the Yeah bro, you gotta charge more and make yourself less available Kool-Aid?
Los tries to lull my skepticism to sleep by showing a testimonial from seller of said masterminds, Kent Clothier. Kent, I notice, is also in the Forearm Tat Club. Rocks a mean beaded bracelet too. This is what drives me nuts. These guys are all in a syndicate. They're homies, they hang out, they speak at each other's events, hook one another up with these bogus testimonials (I highly doubt Kent has ever bought anything from Los), and pass their audiences around like groupies. And they all get richer because of it.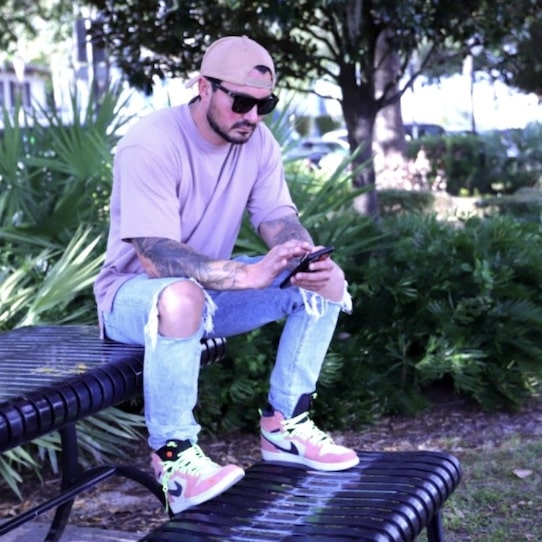 Nonetheless, Los continues pitching his C4 Client Capture Method. The four Cs are: Content, Conversations, Community, Conversions. With Content, you create one video, chop it up a bunch of different ways and spam it everywhere. YouTube, Instagram, Facebook, TikTok. Nothing new there. With Conversations, those who see your content will start sliding into your DMs. At which point, you'll push 'em to a call with your sales team. If they're not quite ready for that, add 'em to a free Facebook group.
There's your Community, right? And then you dump some Content in that Community, and more morons will inevitably DM you (meaning, more Conversations) to learn more. And all of that leads to step four, Conversions. Your sales guy closes the deal, collects the money, stuffs 'em into your program. None of it's bad advice, but it's nothing other I coach coaches gurus haven't been preaching for years. And if you don't look like Los and Josh and you're not connected like they are, I just don't know that spewing video clips all over the web's gonna work the same for you as it does for them.
But if you believe otherwise, their PowerHouse Program is for you. Fill out an app and book your complimentary "Business Consultation" (nope, definitely not a sales call) with them today. As far as cost, I gotta think it's at the high end of what Los recommends you charge, right? So brace yourself. It could be as much as $50k based on his own advice. I look forward to seeing you in the background of the picture he posts from his next live event at some swanky Airbnb in Orlando or wherever it is. Wear ripped jeans and take lots of notes.