John Fealy is a professional shed builder. In the last 15 years, he's built more than 3,000 sheds. After hearing so many of his customers saying how he should take what he's doing and turn it into a franchise—because he's got it down so perfectly—he launched ShedBusiness.com, an e-learning site that can teach you how to build a shed as well, and make over $2,000 profit doing so. How handy do you have to be? How business savvy? Will it work in your area? Read on.
"Yeah, I didn't wanna do a franchise," John says, "so instead I put together a program to show other guys around the country how to run their own shed building business. And model it exactly as I've done, with all the techniques that I have in place. Shed Builder magazine, which is a trade publication in the industry, they actually featured me in one of their articles. They were kind of intrigued by my story. But 15 years ago, before I started my shed building business, that was not the case."
John had a different company at that time, completely unrelated. It was going downhill, so he was super stressed. Mortgage, bills, credit cards, two kids in college—he could barely keep his head above water. He needed another way to make money. He considered taking a job working overnights. Thought about bartending. Driving for Uber. But all of that would be a slow grind, so what else was there? Then one day he's walking through the outdoor section of Home Depot and he sees all these sheds lined up.
Heck, I could build something like this, he thought. This is not that special. So he reverse-engineered how they'd built those sheds, what he'd need for tools and materials, and what all that would cost, right? After he was done crunching all the numbers, he was surprised at how much profit there was in these puppies. You could build one for a fraction of the cost of what someplace like Home Depot was charging. Screw it, he decided, I'm starting my own shed building business.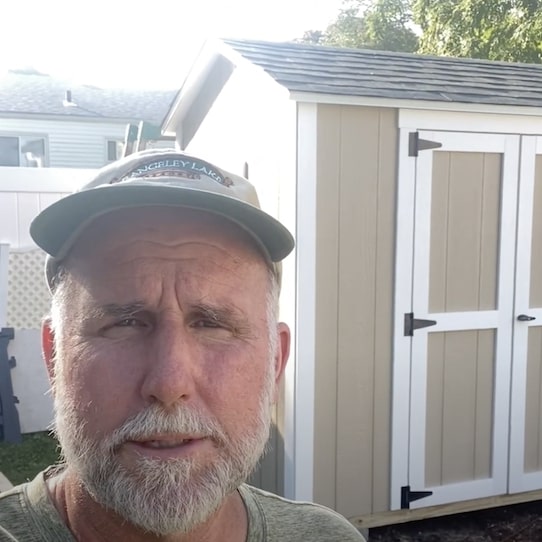 A few things were obvious. He needed his own design. It had to be high quality but really simple to build, onsite, in a single day. That way he could show up at someone's house, do an honest day's work, pocket his $2 grand, go home, put his feet up, and crack a cold one, right? And that's exactly how it went down. People loved John's sheds and he loved building 'em. It got to where he was booked out 2–3 months in advance. By the way, John's in the Long Island area, but you can do this anywhere, he says.
And you only need nine materials, which you can get at Home Depot or Lowe's or a similar place nearby. John's most common product is an 8×12 storage shed. Material cost on that is $1,136. He sells it for about $3,600, but let's be conservative and say you only charge $2,890. Still, that's a take-home of $1,754. Not too shabby, huh? If you just did one shed every weekend, that's an extra $7,000 on top of your day job or whatever else you got going. Double that and you're looking at $14 Gs a month.
Great, but are you even qualified to build sheds? And if so, how will you get orders? And can you really build each shed in a single day? What if someone's unhappy with the end product? Then what? And whaddya need to know about accounting and taxes and business structure and all that stuff? All this and more is covered in great detail inside The Shed Academy Business System course. If you like to be outdoors and work with your hands, this is a cool little side biz you should look into.