Grant Cardone must be hurting for money, man, 'cause he's selling everything now. His latest offer is to become a licensee. That's right, ethically steal his (piss-poor) products, his (trash) training, and his (questionable) credibility and use them as your own. Yep. The easiest way Great Grandpa G knows of to add 6-figures in revenue without increasing your workload. Ugh. I bet even Tai Lopez is over there like, "Yo, dawg, that's too far."
His pitch goes like this: "Over my career, tens of millions of people have listened to my sales programs, read my books, and been part of our coaching programs. I've consulted with thousands of the largest companies in the world—these are massive sales organizations that do multi-billion dollars in sales—and I've helped them increase those. It took me decades of hard work to build my business and get it where it is today. My life mission is to impact seven billion people on this planet."
"That is literally my goal," the 10X Narcissist continues, "to reach every living person on this planet. And that's where you come in. I wanna partner with you. Coaches, experts, educators, influencers, speakers. I wanna give everyone the opportunity to better themselves using my material. To better their lives, to increase their incomes, and take care of their families. Look, changing someone's ability to create income is one of the most powerful and transformational skills you could possibly give someone."
Which is why he's rolling out this new Grant Cardone Licensing Program. Not to make money, of course, but because the world needs his crusty old sales DVDs. Are you a person? Do you have a credit card? Congrats, you're a perfect candidate to buy into this scheme. Once you do, you can log in to his outdated portal and start peddling all the digital dung he's flung at the internet over the last 63 years or however long he's been doing this. Wait, so it's like paying to be a commission-only salesperson for products no one wants? Sounds so nice, I'd like to sign up twice.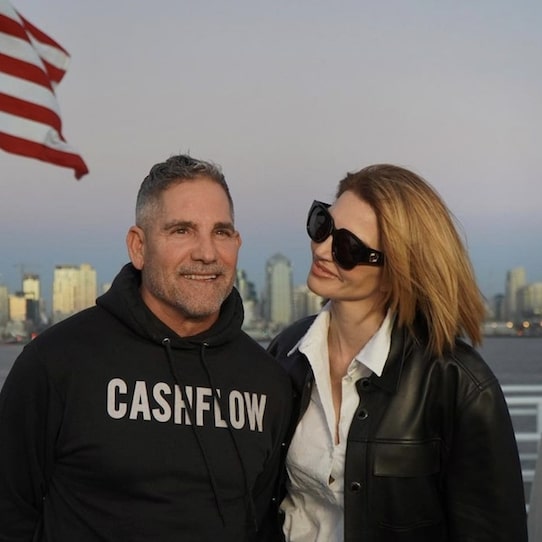 You really can't lose. "My team and I will train you, support you, so that you hit the ground running," Grant adds. "My Licensee Program members will get my name, to use as an authorized Grant Cardone licensee—one of the strongest brands in the marketplace today [yep, right up there with Apple, Amazon, Tesla, and Google]. Two, you'll get my workbooks, curriculums, keynotes, PowerPoint presentations. Three, a license to reproduce all my programs. Four, access to Cardone University. And a lot more."
I mean, I wouldn't be surprised if he threw in all the birthday cards his daughters ever made him and a pair of Elena's dirty underwear while he's at it. But yeah. Save yourself the time and energy of creating products and services that you believe in, and instead promote all of Grant's offers that he flooded the market with 10 years ago. He actually admits he's already done this Licensee Thingie with a group of entrepreneurs in Florida and Canada in the past, and they've reportedly made millions with it.
Okay, Grant, so how much are you charging for this (definitely not saturated) offer? He doesn't say. Book a "strategy call" to find out. Actually, not sure if it's right, but I just found an old sales page that said it's $25,000. On top of that, he may take a percentage of all sales. JK. He knows you're not gonna make any of those. Sad thing is, I bet there's someone right now cashing out their 401(k) to get in on this "amazing opportunity." And on that note, I think I hear some Godiva chocolates and red wine calling my name.