Sometimes the best side hustles are the ones no one talks about. Like junk removal. But can you really make $3,650 to $12,270+ per week hauling off other people's trash? According to this kid, Kyle Landwehr, you absolutely can. At just 22 years old, he's the owner of Slam Dunkin Junk, which has done more than $1 million in sales in the last two years. Junk removal's an essential, low competition service ripe for new millionaires. Read on for my Junk Academy review.
"These days," Kyle says in his latest YouTube ad, "everyone's talking about Amazon FBA, Shopify drop shipping, social media marketing, the list goes on and on. What if I told you there was a better way to generate consistent income that didn't involve learning new tech skills or selling cheap products online? Just two years ago, I was making less than $30,000 a year. My job was holding me back in life and I felt like I was always going to be trapped in the cycle of trading time for money."
"If this sounds like you," he continues, "I want you to know that there is a way to escape this trap. Today I wanna show you the ins and outs of the business that has changed my life, and it's changed so many of my students' lives. Junk removal is the business that helped me break free from my 9 to 5 job and work for myself and make as much money as I possibly wanted. And I already know what you're thinking. How much money can you really make removing people's junk?"
Well Kyle's made over a milli already, so there's that. He doesn't say how much of that's profit though. Just that, if you're an action-taker, you'd be crazy not to look into this business. He's got a proven system that didn't just work for him, but dozens of his students so far as well. He'll teach you all of his trade secrets. What you need in terms of trucks and equipment and manpower to get started. How to outsource all the dirty work. What to charge. What to do with the junk once you collect it.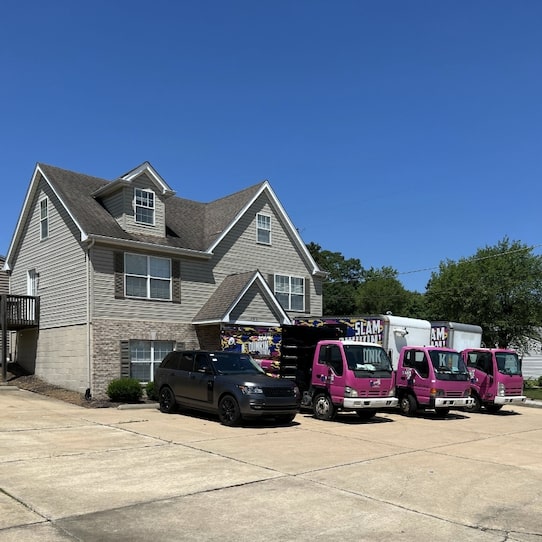 Plus branding, lead generation techniques, systems, scaling, and more. No mention of what it costs to join Kyle's Junk Removal Blueprint, but since he's selling it over the phone, you know it's not cheap. Still, I think for the right person, who wants something offline and who's good at managing other people and problem solving and putting out fires—and who lives in a good-sized city, where there's plenty of demand—it's interesting. That person is definitely not me, but hey, to each their own, right?
"This is my second day learning from Kyle, who's the owner of Slam Dunkin' Junk," one of his current students says. "I've already learned a lot from him about starting my own junk removal company. And I highly recommend his Junk Removal Academy. And you should check it out." Another guy had texted Kyle the following: "I grossed $10,930 and my net, not counting marketing expenses or startup costs, was $5,400 on that." Cool, so it looks like, what, about 50% margins on every job you get? Not bad.
Another member, Sean Purdy, wrote the following in Kyle's private Facebook group: "I'm a week in, and 10 jobs later, ~$3k in revenue. I just want to encourage everyone to keep going. My leads have been from my Facebook posts and Angi leads thus far. No Google ads or Facebook ads. That will come with the website. But great learning from just getting out there—what Kyle shared in The Blueprint definitely works." I think Kyle needs at least a case study video and a FAQs video before asking everyone to book a call. Other 'n' that, not bad.