Andrew Pabia wants to know if you're tired of trying to build an agency all by yourself. "If so," he says, "how would you like a proven done-for-you service business driving dollars into your bank account every single month without you having to lift a finger? Well, that's exactly what my team and I do. First we build and launch an online service agency for you in 20 to 30 days. Your agency will sell top trending services like digital marketing, virtual assistance staffing, funnel building, and even automation."
"Not only that," Andrew continues, "but we will place and manage a high ticket sales rep that will go in there and close your high ticket deals for you. And on top of all of that, we will find a top notch fulfillment team that will go in there and fulfill on all of your deals for you. So if you are interested in a fully, 100% done-for-you service business that will drive cold hard cash into your bank account every single month? Then fill out an app and apply for our done-for-you launch program."
Andrew's Tiger Eye Automation site says he's been seen on ABC, CBS, NBC, and FOX. Hmm. Has he though? Or does something seem off here? Like a Kentucky family reunion where everyone's touchier than they probably should be? I'll let you be the judge. But he's also got a "testimonial" from Shark Tank's Mr. Wonderful—which can be purchased on Cameo for $1,500. Not saying that's how he got it, but I'm not not saying that's how he got it. Either way, let's move on, shall we?
Because Andrew does have some more believable success stories on his website. For example, there's Tyrell, who had this to say: "I joined Andrew's mentorship program a coupla months ago and it's been the best investment I've ever made. I've been able to 10x my investment in just a few weeks. I've tried so many things in the past to get a really dialed in client acquisition system, and this is the first time I've been able to consistently have a booked out calendar. If you're on the fence, it's a no-brainer to join."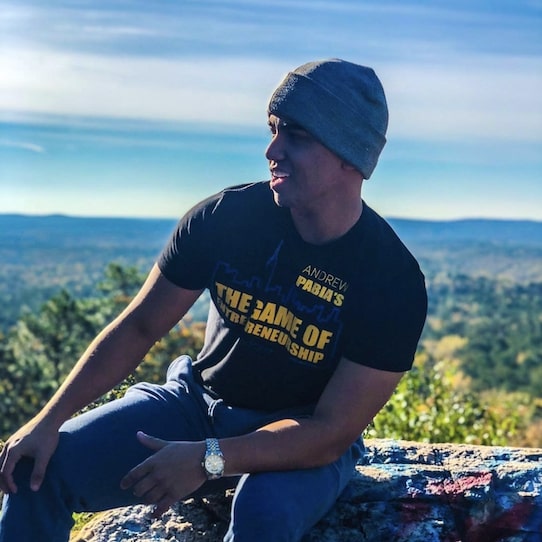 Then there's Joel who came in, decided to try out a totally new niche, and closed $100,000 in new business in just over a month. Needless to say, he was completely blown away. Another guy, Rusty, filmed a quick shoutout video as well. His first month working with Andrew was his biggest ever. And month two's on pace to double that. Andrew's gone above and beyond for him, even hopping on one of his sales calls to close a client on a 12-month retainer. Sky's the limit for Rusty.
And here's Kayd: "Me and my business partner actually joined Andrew's coaching just over 30 days ago. We're looking to scale our agency. In just a few mentoring calls that we did with Andrew, in that first month, we did about $20,000 in new business, which was super exciting. If you're contemplating joining his course, I highly recommend it. He knows what he's doing, he's built agencies before, and now he's helping other people do the same thing. What he does works. Allow him to help you."
Finally, Seth accepted his $100k award from Andrew personally at one of Andrew's live events. He claims Andrew helped him quadruple his client base and scale aggressively. If you wanna grow your agency as fast and as efficiently as possible, he recommends you get in now. So there you have it. I'm not sure of the cost, but other than that questionable credibility-building stuff, it seems like TigerEye Automation is a legit DFY service. That said, I still prefer to master the skills myself and have money come to me. See below.