Dan Rawitch says, "Did you know there's a way of trading that's been kept secret from you? You see, the investing gurus on YouTube, they want you to keep paying for their outdated, rehashed information. That way, you stay poor, frustrated, and stuck. Me, I don't have a Lamborghini or a mansion, but what I do have is a simple, 2-minute trading system that consistently makes me $5- to $20k per month passively. And it works in any market."
If you've never traded options before, which is obviously what Dan does, don't let that scare you. It's extremely easy to learn, he assures us. Also, options open up leverage, allowing you to make more with less capital up front. Not only that, but they allow you to make money in a down market. So, speaking of options, the way Dan sees it, ya got three of 'em. One, you can gamble your money on other investments. Real estate, some stupid "crap coin," or maybe the next Gary Vee NFT, am I right?
Or, two, you can try to figure it all out by yourself. "I tried this," Dan laughs. "After college, I was a trader on Wall Street. I worked for Bear Stearns, which was one of the most prestigious firms at the time. After trading for Bear Stearns, they promoted me and I became vice president of asset and liability management. Meaning, I helped banks, both small and large, manage their portfolios and hedge their servicing portfolios, making sure everything was balanced. It was a highly-technical job."
"I loved it, I was really good at it," Dan continues, "but when I decided to leave the corporate world and I decided to start trading full-time, I just thought, 'I'm gonna nail this. This is gonna be so easy for me. I remember virtually everything that I did on Wall Street.' Right? But, oh my gosh was I wrong. Such a different world. I got hammered. Now, I didn't blow up my whole account like most option traders do, but I struggled. And I hired mentors, I paid people, I did everything that I could."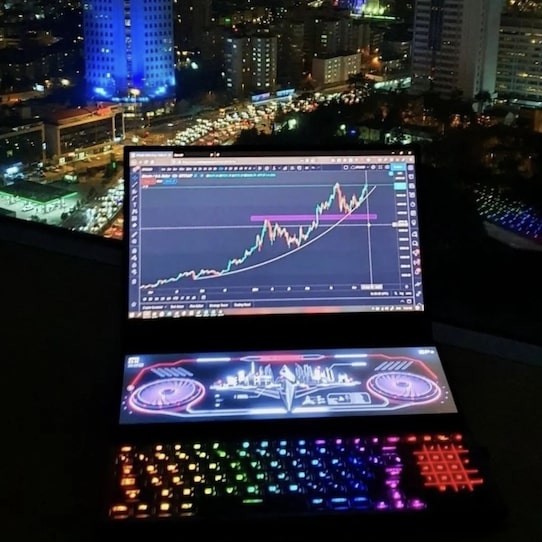 Obviously, there's a third option. "You can copy and paste my proven system," Dan says. "And again, this is the deal. Even a terrible day on Nasdaq is a great day for me. And when the market's strong, I also have a good day. So, what I'd like you to do is schedule a call with me. I think it could be the most valuable 30-minutes you could invest in yourself in a very long time. Don't worry, it's not a sales call. Instead, we're gonna talk about you and your goals and what steps it's gonna take to hit them with my trading system."
But if you do end up joining Dan's University of Options program, you're gonna get a full year of access to him, where you can ask questions, seek advice, and benefit from accountability. You'll also be able to attend two live classes per week, where Dan goes over what's working and what's not in the current market conditions. If he doesn't think you're a good fit, he won't extend an invitation. If he does, though, at the end of that call, you can go ahead and submit payment and get signed up. No mention of cost.
Similar trading programs that use a phone sale (I mean, let's call it what it is) typically cost $3- to $5k or more, just FYI. I'm not saying for sure Dan charges that much, but I bet he'd have a "buy now" button if it was significantly cheaper than that. Anyhoo. He seems legit and down-to-earth; I like him. I just wish he would've shared a little more insight on his supposed 2-minute trading system. Or was that just a clever hook to get me to opt-in to his funnel? I'm honestly not sure at this point.