Aleric Heck is the CEO of Ad Outreach where he basically helps gurus spam you with YouTube ads. The more he and his clients retarget me with shouty reminders to buy or book a call, the more cynical I become. Aleric's latest biz opp is called Video Clients. Apparently, he'll teach you how to build a six or seven figure business by attracting whale clients with video; and without ad spend or fancy equipment. Read on for my Video Clients review.
Do you know where your next client is coming from? How 'bout your next ten clients? Hundred? Most internet marketers haven't got a clue. They just keep grinding and hope for the best. As a result, income's up and down and their business is always in jeopardy. Does that sound like you? Well, what would your life look like if you could consistently enroll clients using simple, authentic videos, Aleric asks. Because it's possible, especially when you're clued in on the following four secrets.
Secret one: imperfect videos sell more. You don't need fancy camera gear or green screens or a seventy-five dollar an hour editor. All that stuff does is take away from your message. If you've got a modern iPhone and a Gimbal (think modern selfie stick), you're good to go. From there, it's about positioning yourself as an authentic authority. That's all that matters. Oh, and if you're self-conscious about how you look or worried you're not charismatic enough to be on video, join the club, Aleric says. Then hit record anyway.
Secret two: understanding the four components of getting clients from video. First, show them who you are. Second, bring them into your world. Third, prove that you can help them. Fourth, invite them to take the next step. Each one can be a separate video. You can market them organically, in succession, to warm prospects up and get them to snag a spot on your calendar, for example. By that point, they should be screened, confident in your ability to get them results, and ready to pay you what you're worth.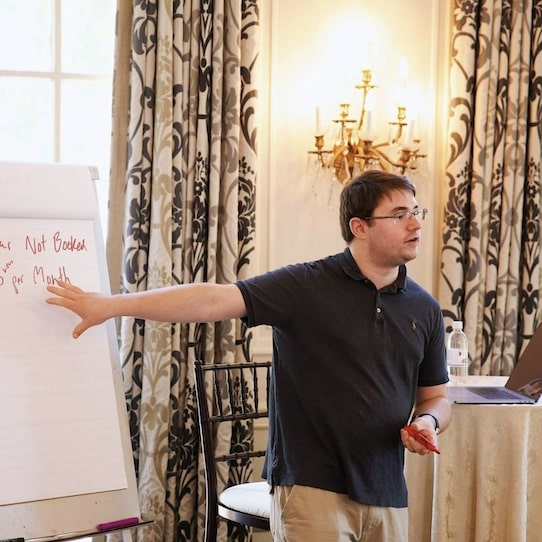 Secret three: you don't need a big following to get clients. This is one of the strongest misconceptions people have. They think you need a million YouTube subscribers to make good money. "That's just not true," Aleric says. "Your ideal clients come from quality not quantity. Remember, you attract what you seek. If you focus on quantity, you might end up with a bunch of people seeing your videos, sure, but that doesn't mean any of them will turn into an ideal client. And so, you wanna find your one thousand true fans."
Secret four: you can scale to six or even seven figures using videos to get clients. It's true, Aleric explains, you can compound everything he just described without paying for ads. Think about it. You can leverage multiple video platforms. You're not limited to YouTube or even Facebook. There's Instagram, LinkedIn, even TikTok. Once you systematize your approach and go deep on each platform, more revenue is within reach. It's that snowball effect. You'll gain more and more traction as you go.
"You're essentially creating this flywheel where you're constantly posting these videos on all of these platforms," Aleric says. "You're demonstrating your character, which draws people in. You're connecting on a deeper level with your viewers. You're building credibility by showcasing testimonials. And then you're having that call to action to get people off of watching videos and actually working with you as a client. And you're repeating this process again and again." Book a Video Clients strategy call to find out what it costs.