E mily Smith is the founder of MLE Pictures, a million dollar wedding photography business. They've documented over 300 weddings. Everyone from adorable high school sweethearts to NBA superstars.
Emily can help you launch your own wedding photography side hustle, even if you have no money, experience, equipment, or portfolio. You can land a $10k shoot in 7 days and routinely make $20- to $50,000 per month, she claims.
Keep reading for my Wedding Photographer Accelerator Course review.
The wedding business is booming post-Covid. It's now a $72 billion dollar industry. Couples spend an average of $33,000 on their big day. For Pinterest-worthy weddings, it's more like $75,000 to $100,000.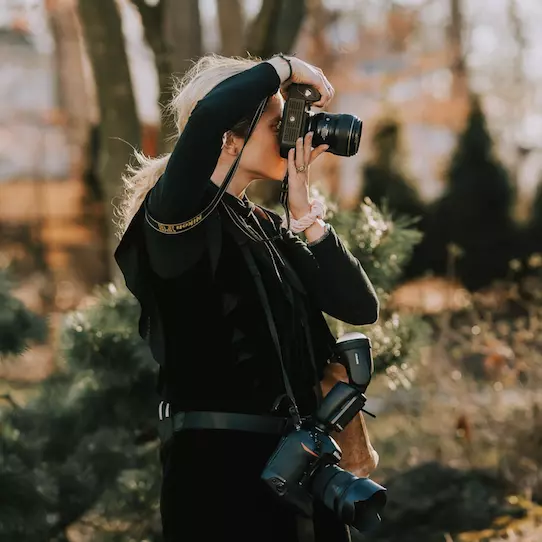 The average cost of wedding photography has risen by 20% in the past 5 years, to between $4,000 and $10,000. That's a lot of money for a day of work. And in many parts of the country there's a shortage of wedding photographers right now, Emily says.
Meaning, if you can get in front of these soon-to-be brides, $10k days are just around the corner.
All from doing something you're passionate about. Providing a service you can be proud of. Sharing in amazing experiences that'll warm your heart.
Work when and where you want. Keep your day job or replace it. Totally up to you.
And you can get stated faster than you ever thought possible.
Sure, you're gonna have old, established wedding photographers in your city to compete with. But guess what? Times are changing. Emily's system will allow you to skip right past them, differentiate yourself, and land your first high-paying client in a matter of days.
More on this system. Brides and grooms today are getting their inspiration and planning their wedding based on what they're seeing on Pinterest, Instagram, TikTok. They know what they want, and it's not the traditional stuff everybody was doing in the '90s.
You can position yourself as the creative, hip new photographer who "gets them." Or bring your own style to the table. Editorial, bold, whatever it is. Build your brand around it.
Imagine working two Saturdays a month and bringing in an extra $10,000 to $20,000. What would you spend it on? A vacation? A shopping spree? Maybe save it up for a house?
Emily's Ideal Bride System can make this a reality.
Step 1 is coming up with your ideal bride. Emily always loved the photographs in Vogue, so that's what she did. High-fashion, editorial-style shoots. Not everyone's cup of tea but when the right bride comes along, they're instantly sold and willing to pay just about any price.
So niche down:
Hundreds of brides in your area will be on that same wavelength and you'll be the only one speaking directly to them.
Step 2 is to get in front of them. It's easier, cheaper, and faster than ever thanks to social media. And you don't have to slog away at it for months growing your own following from scratch. You can just partner with a local influencer that already has tens of thousands of followers and pay them to promote you.
Another option is Facebook and Instagram ads, spending as little as $5 a day to target newly engaged women in your local area. Narrow it down to those who like Vogue or whatever your niche is.
The algorithms are so good now thanks to AI. You can get the right message to the right person at the right time, without much risk.
Step 3 is an anti-selling system. A step-by-step process to turn leads into friends and friends into dream clients.
Emily has a swipe file full of questions and responses you can copy and paste into the DMs you'll now be getting, a script for phone calls, and an easy process for taking payments.
Her Booked-Out Bridal Photographer program costs $1,500, and for once I have nothing bad to say about it.