R yan and Janine Mix help Kingdom entrepreneurs prosper. (Name-dropping God is so in right now.)
They went from $120k in debt to $15 million in real estate. Without cutting up credit cards, clipping coupons or skipping Starbucks.
Bravo! Are they waiting for a sweet treat in return? Or what's this gotta do with you?
You're about to find out.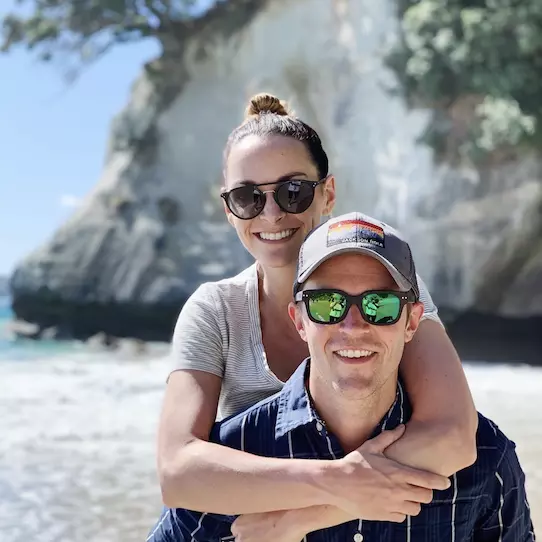 Read on for my Real Estate Freedom Summit review.
Whatever your dream in life, real estate investing can help you achieve it, Ryan says.
Maybe it's material possessions. Like their pool or Janine's Mercedes. Maybe it's social status. Like the private billionaire's charity dinner they just attended where they got their picture taken with Jamie Foxx. (Did we ever find out what that health scare was all about?) Maybe it's luxury experiences. The Mixes just flew first class to somewhere where they rode camels in the desert.
Funny.
I found Janine and Ryan from a Facebook ad where they were poking fun at "Lambros." What's next? A masterclass on irony?
Anyways.
The perks are nice, yes, but the main reason Janine and Ryan got into real estate was for the freedom.
In the pitch video I'm watching, they're sitting in a moving truck in Virginia on a random Tuesday, helping Ryan's parents move.
Quite the favor considering they live 2,000 miles away.
But hey, Ryan's folks are in their 60s and nobody else that lived closer could get time off work, so they flew out to lend a helping hand.
And film an infomercial, apparently.
Now Janine's back bragging about how they vacationed in Africa on a week's notice, stayed in a mansion with maids, a pool guy, a personal chef, and their own security, and got to do all these amazing, once in a lifetime excursions.
Of course, they just happened to capture that incredibly spontaneous and totally not staged moment when they donated to those poor African babies on video. It's almost like they carry professional camera crews with them wherever they go, just in case they wanna turn their generosity into a marketing spectacle.
Now Ryan and Janine wanna show you how to do this too.
They're hosting an online Real Estate Freedom Summit. Learn to invest in real estate even if you have no money, bad credit, and you've never done a deal before.
Two weeks prior the Mixes cashed a check for $202,000. All profit. Did it entirely with other people's money.
Discover their step-by-step process and more throughout this jam-packed 1-Day Virtual Summit.
Damn. If the Mixes don't know it, chances are it hasn't been thought of yet.
All of these things can change your life, Janine assures us. You don't wanna miss this event.
It's exactly how their real estate journey started. They went to some seminar over the weekend and never looked back.
General Admission tickets cost $147 apiece; VIP tickets are $247 and include bonuses like a replay, Janine's 10-page Guest Favorite House Guidebook for Airbnb, and an Exclusive Afterparty VIP Lounge + Q&A with Ryan and Janine.
I swear, if these two ever left a tip over 20%, it would come with its own social media campaign.
Play this through the high-end Burmester speakers in Janine's Mercedes: I won't be in attendance.