Anthony Morrison started getting 30% returns investing in real estate without it becoming a full-time job. "Let me ask you a question," he says in his Real Estate Digital Advantage overview video. "You ever feel like you're on a hamster wheel as an investor? You sign up for the hot deal alerts, they rush in, you look at it, you wonder if it's a deal that's gonna work. And yet, there are thousands of other people around the country who're looking at that same deal."
"They're all analyzing 'em," Anthony continues, "and there's a fight for like the one or two good deals that actually come in. The thing is, as a real estate investor, you're always fighting to find the best deals. Right? What if I told you that you don't have to have the best deals? What if I told you that I actually look for some of the worst deals? And I make those deals extremely profitable, winning deals for myself? All these deal finding sites—like We Buy Houses—you can cut them out if you learn one simple skill."
No more middleman, no more rushing around just to get a deal done. You simply have what Anthony calls the Digital Advantage. And look, Anthony admits, he's far from the biggest and best REI out there. He's an internet marketer; that's what he's known for. But what he realized was, his background actually gave him an unfair advantage. He didn't wanna flip houses. Zero desire to get his hands dirty. Didn't wanna spend eight hours a day looking for deals. The heck with all that.
Anthony wanted a simple, hands-free, lifestyle-friendly way to make money with real estate. That's why he started out with self-storage units. The rebills are insane. Once someone rents a unit, they typically keep it for a long long time. There's almost no maintenance and no need to pay for a property manager. The first storage facility Anthony bought was only doing $6k per month when he acquired it. Using his internet marketing mojo, he was able to balloon it to $20k per month in under a year. Now it's a cash cow.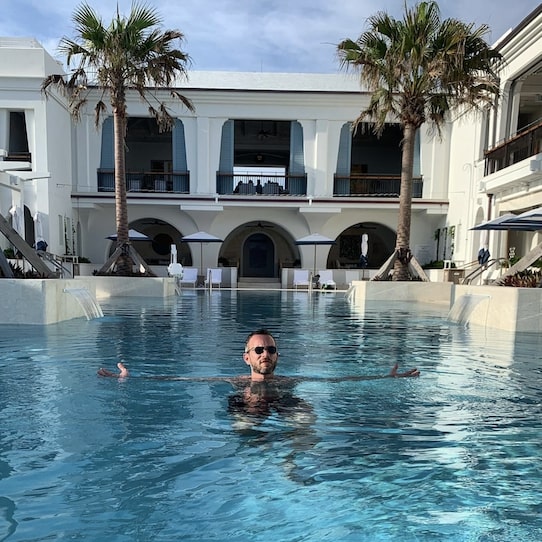 "A lot of people think you need to be on a main road and have visibility to succeed with self-storage," Anthony explains. "You don't. You can pick up neglected facilities in not the best areas, and even pay more for them, when you have the Digital Advantage. It doesn't matter whether you pay $1 or $10 for something. If it cash flows, it's a good deal. So we can go in, we can pay a little more for properties, because we know we're gonna get to the money faster. And we can find properties no one else wants."
"So here's the deal." Anthony's now in his patented pitch mode. "If you wanna be in the self-storage space, you need to understand the Digital Advantage. How do you find self-storage facilities that are gonna work? How do you get self-storage facilities that are not on the main road, right, so you pay way less for them, but then you have them outperform facilities that are on the main road and have all the eyeballs, right? That is the Digital Advantage and that is what I'll teach you."
Not interested in self-storage? No problem. Anthony's applying this to vacation rentals as well. He's going in, finding non-performing condos, scooping 'em up, and by next rental season they're absolutely killing it. He's also got his greedy little paws in some pre-construction deals, so he can teach you that as well. Even commercial projects like building new strip centers from scratch. If you'd like to carbon copy what Anthony's doing, apply for his coaching program. I bet it costs quite a bit, but then again, it should pay for itself many times over, right?