Ryan Carroll is the CEO and founder of Wealth Assistants, which offers done-for-you Amazon stores that spit out passive income each and every month. If you invest and don't make at least $55,000 profit in the next 12 months, they'll buy your store back from you—no questions asked. Too good to be true? Not when some of their current clients are supposedly pocketing $10-, $30-, even $50,000+ per month. Read on for my full review.
Unlike other Amazon FBA opportunities you may have seen in the past, these guys will set up and operate the entire store on your behalf. "We've already done this for dozens of everyday investors," says their marketing director, Hunter Chatman. "One of our clients sold more than $16,000 worth of products in just the first six weeks. Another one did over $10,000 in sales in the first month. And another one did a little over $44,000 in revenue in the first three months. That store's seeing about 30% ROI."
"So look," Hunter continues, "if you're trying to get ahead in today's world? Costs of pretty much everything have gone through the roof. It's eating at your precious hard-earned cash and making it harder to do the simple things, like putting money away for savings, or affording basic stuff like food and gas. Traditional investments aren't doing much better either. The stock market is down, inflation's outta control, crypto's unstable and real estate is only getting more expensive to get into."
Meanwhile, yeah, we get it, Amazon's over there just exploding in revenue. The pandemic forced us to order more and more stuff online and we all got used to it. We realized, Ya know, clicking a few buttons from the couch and having everything just show up on my doorstep the next day sure beats dealing with all the filthy animals at Walmart. So that trend's likely to continue. I think we can all agree on that. But does it mean you should risk God-knows-how-much on one of these custom built Amazon stores?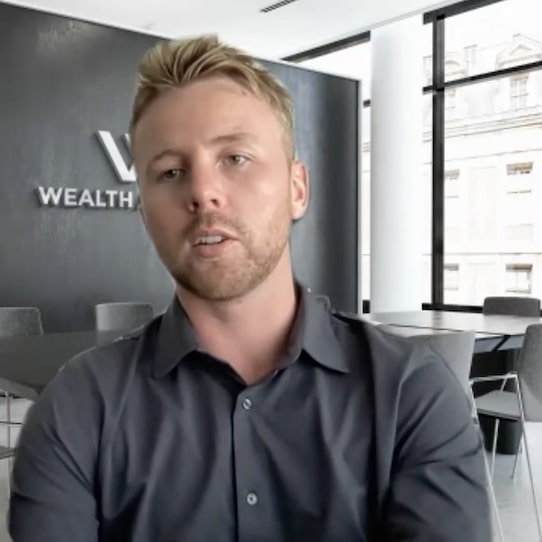 Ryan sure thinks so. "We've recently opened the doors to another round of investors who want their own profitable Amazon stores," he says, "so they can collect direct deposits every single month while we handle all the hard work. But as great as this opportunity is, I must say that it is not for everyone. We are looking for a specific type of investor. One that's willing to play the long game; someone who's willing to make a 5-figure investment into the creation and launch of your business."
So they're charging you at least $10,000 for this, but probably much more than that. I've seen similar offers that were $50,000 or more. On top of that, you'll need $50- to $100k in available credit to purchase inventory with. Chances are you don't have that much, so Wealth Assistants will help you apply and get approved for some of the best business credit cards that are out there. You should recoup all of this money by the end of year one. Again, they do have that guarantee, just in case.
Ideally, you'd reinvest any profit you make back into the business for the first year. It's not sexy but you are building an asset that you could sell for a multiple one day, Ryan points out. Gotta say, of all the automated Amazon companies I've seen popping up over the past year or so, this is one of the most believable presentations I've sat through. Still. Would I fork over tens of thousands of dollars and then max out credit cards for an entire year before maybe enjoying some passive income? Not a chance.